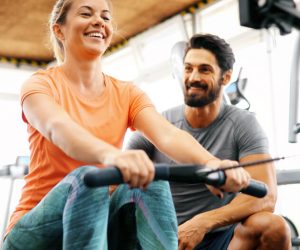 Why the Best Drug Rehabs Have Great Gyms
Many people ask, 'do drug rehab centers have gyms?' but there are several reasons why the best drug rehabs have great gyms. First of all, a great gym is a benefit in any property or facility, and it's very beneficial for people residing in residential treatment.
If you are taking part in an inpatient drug detox and rehab program, you may be a guest for two or more months. This length allows you to still work out while you are progressing through a substance abuse treatment program.
If you or a loved one are struggling with addiction, call WhiteSands Alcohol and Drug Rehab today at 877.969.1993 to learn how we can help.
The best drug rehabs have great gyms because top-notch facilities often incorporate exercise into their treatment programs. No matter the reason, choosing a drug rehab facility with a great gym gives you one more amenity to take advantage of or treatment options to explore.
It is also vital for individuals in drug rehab to form new habits. These can also be a return to old, positive activities, and working out and getting in shape is a perfect one to have on the list.
Taking up a new or previously enjoyed physical activity during drug rehab is good in two ways. First of all, it occupies time in your day—time you may have recently spent drinking or doing drugs. Second, any physical activity is most likely going to be a benefit to your overall health. People who drink or use drugs often ignore their general health, and running, swimming, and taking part in exercise classes, even walking, will start to reverse those negative trends.
Benefits of Exercise in Recovery
When you abuse or become addicted to drugs or alcohol, your mind, body, and spirit can be negatively affected. Conversely, exercise of almost any form can act positively in all these areas of your being. The benefits of exercise in recovery can be both great and small, but every bit of effort is good. In addition to the following reasons why it's a good idea to take up exercise as a part of your life in recovery, physical activities can also lead to social interaction and meeting like-minded people. Here are a few of the benefits of exercise in recovery:
Stress Reduction
Better Sleep
Improved Mood
Increased Energy
Stronger Immune System
Relapse Prevention
In fact, several of the other benefits roll up into the last one, relapse prevention. When you have less stress in your life, you're sleeping better, and you have more energy; these are all reasons you won't drink or use again. In the end, relapse prevention is the linchpin holding many different things people do in rehab and recovery together.
Fitness Amenities at WhiteSands
The fitness amenities at WhiteSands Alcohol and Drug Rehab are challenging to match for any rehab facility. We have amazing pools at our facilities where our guests can get in laps every day. Our state-of-the-art fitness centers at our residential facilities have everything a person could need in order to get a great workout. We have fitness trainers available for our clients to work with and many classes for clients to take while they are with us.
One of the most highly regarded programs at our fitness centers is our training with professional boxing trainers. Whether you've boxed before in a ring or as part of a workout class, or have never put on a glove, we have training options for you if you're interested. Our patients give us incredible feedback about our boxing training program. Many have said it's the perfect way to work out the intense emotions that come up during a long day of therapy.
When you speak to one of our rehab counselors, please ask them more about all of the great aspects of our gyms and physical fitness programs. Contact WhiteSands Alcohol and Drug Rehab today to learn more about our comprehensive addiction treatment programs or visit one of our many locations in Florida.
If you or a loved one needs help with abuse and/or treatment, please call the WhiteSands Treatment at (877) 855-3470. Our addiction specialists can assess your recovery needs and help you get the addiction treatment that provides the best chance for your long-term recovery.