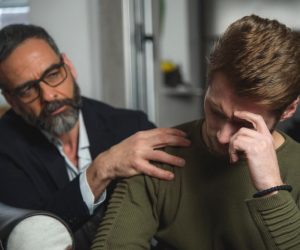 The Best Ways to Help an Addict
When a family member becomes addicted to alcohol or drugs, every other person in the family often suffers alongside the addict. Those other family members may not be using drugs or abusing alcohol themselves, but they feel the impact all the same. When it comes to the question of how to help a loved one struggling with addiction, many well-meaning family members are at a loss.
They are often left wondering how they can provide support without engaging in enabling behavior or making the self-destructive choices their loved one is making more manageable to live with. If you truly want to help a loved one struggling with addiction, you need to walk a fine line between helping and enabling, and staying on the right side of that line is not always an easy thing to do. Keep reading to discover how to help a loved one struggling with addiction.
If you or a loved one are struggling with addiction, call WhiteSands Alcohol and Drug Rehab today at 877.969.1993 to learn how we can help.
Educate Yourself on Addiction and Substance Abuse
If you want to help a loved one trapped in the cycle of addiction and substance abuse, you first need to educate yourself. Addiction is a foreign concept for many people and learning about how it develops, the forms it can take, and the consequences if it is not treated, is a vital first step in helping the person you care about.
There are many ways to educate yourself about the nature of addiction, from books and websites to direct information from experts in the field. If you would like to learn more about the disease that impacts a beloved member of your family, we encourage you to pick up the phone and give our staff at WhiteSands Alcohol and Drug Rehab a call today. We can guide you through the next steps as well, giving you tips on getting your loved one into treatment before their addiction grows even worse.
Offer Support But Do Not Enable Addictive Behaviors
The line between support for an addict and enabling their addictive behaviors is not always clear, and well-meaning family members often have a hard time navigating this complicated process. If you engage in enabling behaviors, you could end up making an already difficult situation worse and more dangerous, as keeping an addict comfortable in their addiction can delay treatment and recovery.
Suppose you want to help your addicted family member with a home-cooked meal, okay. On the other hand, giving them money to buy groceries will likely mean the cash will be used to purchase drugs instead of food. Learning the difference between helping vs. enabling can be difficult, but it is essential to get it right.
Encourage Them to Seek Treatment for Their Addiction
If you genuinely want to help your addicted friend or family member, the best thing you can do is get them into treatment. Unfortunately, you can do nothing to force an adult into drug or alcohol rehab, so the best you can do is be persuasive and make good arguments.
When trying to figure out how to help a loved one struggling with addiction, reaching out to our staff is always a good place to start. We will help educate you about the various factors that feed addiction and delve into topics like how to stage an effective intervention. This kind of intervention could be a valuable first step on the road to recovery, so don't hesitate to contact us.
Support Them Through the Addiction Treatment Process
Getting your loved one to accept your offers of treatment is a vital first step, but it is not the end of the help you can provide. Now that your addicted family member has gone into treatment, you can continue to provide ongoing support in the form of attending family meetings, making your own home substance-free, and preparing for their eventual return from rehab.
You can continue to educate yourself as well, learning as much as you can about how to prevent a relapse, how to identify and avoid personal triggers, and how to pursue sober-friendly activities in your hometown or city. The more you know, the better you will be able to support the soon-to-be recovering addict in your life.
WhiteSands Addiction Treatment Resources
Helping an addicted friend or loved one is not an easy thing to do, but it can be done using the proper guidance. If you need help to stage an intervention, educate yourself about addiction or get a friend or loved one into treatment, our staff is just a phone call away.
If you are ready to get going and get your addicted family member's help, we encourage you to make that call today. All it takes to get started is a single step, so don't hesitate to get in touch with us today.
If you or a loved one needs help with abuse and/or treatment, please call the WhiteSands Treatment at (877) 855-3470. Our addiction specialists can assess your recovery needs and help you get the addiction treatment that provides the best chance for your long-term recovery.