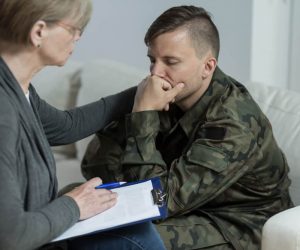 Best Dual Diagnosis Treatment Program for Veterans
WhiteSands Alcohol and Drug Rehab offers dual diagnosis treatment programs for veterans struggling with underlying disorders and addiction. Those who have returned from combat face a unique set of challenges and may find it challenging to transition to regular civilian life. The difficulties during this transitional time can be exacerbated by a mental health disorder, such as PTSD, as well as if the individual is struggling with substance abuse or addiction.
If you or a loved one are struggling with addiction, call WhiteSands Alcohol and Drug Rehab today at 877.969.1993 to learn how we can help.
What Is Dual Diagnosis?
Dual diagnosis is a condition that those who have both a mental illness and a substance use disorder struggle with. When an individual is struggling with both of these, it can make everyday life a battle.
For those who have a co-occurring disorder in conjunction with addiction, dual diagnosis treatment is the most effective way to stabilize the individual. Combination therapy, which involves therapy alongside medication-assisted treatment (MAT), is the most effective method in managing mental illness and addiction.
Statistics About Veterans, PTSD, and Addiction
Veterans who return home are highly susceptible to PTSD and often, they will self-medicate in an effort to cope with the symptoms and side effects. Some of the statistics involving veterans, PTSD, and addiction are:
20% of veterans who are struggling with PTSD also struggle with an addiction
2 in 10 vets who have PTSD also have substance use disorder
Veterans who have PTSD use nicotine two times more than those who do not struggle with PTSD
More than 1 in 10 of veterans who served in Afghanistan and Iraq struggle with a drug or alcohol abuse problem
Veterans returning from deployment typically binge drink
Opioids are one of the most abused prescription drugs by veterans
Alcohol & Drug Detox for Military Veterans
For those who struggle with a drug or alcohol addiction, whether severe or mild, a period of medically assisted detox is necessary. Once a patient evaluation has been completed, it will be determined what the best medication is for your unique addiction. While less severe addiction will require a shorter period in detox, such as five days, more severe addiction cases will require a longer time in detox, such as ten days.
Alcohol & Drug Rehab for Military Veterans
WhiteSands Alcohol and Drug Rehab offers military veteran-specific treatment programs that focus on their unique needs. During one-on-one therapy with a primary therapist, patients will work through their co-occurring disorder, as well as their addiction, to learn vital coping mechanisms and trigger management skills.
Some of the most common disorders that WhiteSands sees in Veterans are:
Bipolar disorder
PTSD
Depression
Anxiety
When patients know how to manage the symptoms of these disorders better and apply the tools learned during therapy, they will be much more successful in tackling their disorders.
Prescription & Opioid Drug Rehab for Military Veterans
Unfortunately, many veterans return from deployment with severe injuries that cause them to become dependent on prescription medications such as opioids. These strong classes of medication can be highly habit-forming and develop into addiction quickly. Luckily, WhiteSands Alcohol and Drug Rehab offers opioids drug rehab for military veterans that can help them overcome and manage their addiction.
What Makes WhiteSands the Best Dual Diagnosis Treatment Program for Veterans
There are so many features of WhiteSands Alcohol and Drug Rehab that rank us as the best dual diagnosis treatment facility for veterans. Some of the ways that our facility does it better are:
Private rooms with private bathrooms for guests
Internet access and television in each room
A full-sized gym
A state-of-the-art athletic complex
Basketball court
Volleyball court
Personal training with professional coaches
Our philosophy at WhiteSands Alcohol and Drug Rehab is 'a comfortable guest makes for a successful patient,' and we adhere to this philosophy in every facet of our operation. We believe that when patients are comfortable in their environment, they are much more receptive to addiction recovery. By providing the comforts of home, we eliminate the institutionalized and generic feel that is often associated with the addiction treatment process.
If you or a loved one are struggling with drug or alcohol addiction, contact the intake team at WhiteSands Alcohol and Drug Rehab today. We are available on an around-the-clock basis to take your call. There is no better time to seek than now, so pick up the phone today and make the life-changing decision to get help.
If you or a loved one needs help with abuse and/or treatment, please call the WhiteSands Treatment at (877) 855-3470. Our addiction specialists can assess your recovery needs and help you get the addiction treatment that provides the best chance for your long-term recovery.