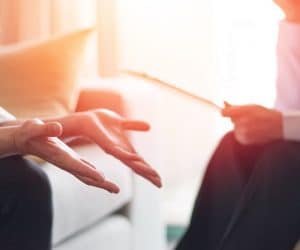 Top Rated Addiction Therapist for Veterans Suffering From PTSD
WhiteSands Alcohol and Drug Rehab can help facilitate an addiction therapist for veterans suffering from PTSD (Post-traumatic stress disorder). Our therapists have experience specializing in helping those struggling with underlying co-occurring disorders and can help you learn how to better manage and cope with your mental illness.
If you simply want to speak and meet with a therapist but are not enrolled in our inpatient or outpatient treatment programs, you can come and see a therapist at one of our treatment centers. Our therapists are available to speak with you about any drug, alcohol, or mental health-related struggles that you're dealing with, providing sound advice, support, and guidance.
If you or a loved one are struggling with addiction, call WhiteSands Alcohol and Drug Rehab today at 877.969.1993 to learn how we can help.
The Connection Between PTSD and Substance Abuse
Many veterans who return home from serving in active duty have PTSD. Unfortunately, many of them do not get the help they need for their mental health disorder and therefore begin to self-medicate through the abuse of substances. Substance abuse may bring temporary relief, but the root cause of the problem will not be fixed, and the individual will continue to abuse these substances.
Some of the side effects of PTSD are:
Vivid flashbacks
Chronic anxiety
Memory loss
Anger
Irritability
Depression
These side effects can often be tough to control and manage, which is why veterans often turn to easily accessible substances, such as drugs and alcohol to help suppress and mitigate these feelings.
Chronic Pain and Substance Abuse in Military Veterans
Military veterans are particularly vulnerable to chronic pain, as the battles they endure during deployment can take a devastating toll. Veterans are also exposed to a great deal of death and injuries while deployed, resulting in vivid flashbacks. Veterans may be prescribed potent prescription drugs, such as opioids, to ease the side effects of physical pain.
Opioids are a highly addictive and habit-forming medication that alters the brain's chemical makeup, making individuals unable to function without a steady dose of the drug. When they can no longer get their prescription refilled, they may turn to illicit forms of the drug, such as heroin, to mitigate the withdrawal symptoms.
To cope with PTSD and other issues that vets deal with once they return from a deployment can mean abusing drugs and substances of abuse. When these individuals experience a trigger, it may spiral them into further substance abuse. Without proper intervention and help, these individuals and their substance abuse will continue to worsen.
Addiction Therapies Used to Treat PTSD and Addiction in Veterans
Once an in-depth patient assessment has been completed, the right therapy for the individual's PTSD will be determined. Some of the different therapies that are used to treat PTSD and addiction in veterans are:
Individual Therapy
This program is when patients meet one-on-one with a primary therapist as they work through their co-occurring disorder and addiction. This process can involve dual diagnosis treatment to uncover any underlying disorder to stabilize on both a mental and physical level.
Group Therapy
Patients will attend group therapy multiple times per week, which a therapist facilitates. Individuals will share their stories while others can learn about how they are working through their struggles daily.
Dual Diagnosis Treatment
This type of treatment program works to uncover the root cause and driving force behind an individual's desire to use. For veterans, they often turn to drugs or alcohol because they struggle with PTSD.
Family Therapy for Military Veterans with PTSD & Addiction
Addiction is classified as a family disease which means everyone in the family is affected by an individual's substance abuse. Whether you are a parent, partner, or sibling of a veteran struggling with PTSD and addiction, the individual's disorder harms anyone close to that person. Family therapy involves teaching the family various methods and mechanisms that help everyone manage the situation at hand.
Some of the areas that are covered during family therapy are:
Tackling emotions
Learning to communicate effectively
Changing behaviors
Learning to understand better
Outpatient Alcohol Rehab For Military Veterans
WhiteSands Alcohol and Drug Rehab offers outpatient alcohol rehab for military veterans throughout Florida. With many locations throughout the state, a continuum of help and support is always close to home. Outpatient treatment is an integral element in the overall recovery process and can help reinforce the various lessons learned during patients' time in rehab.
Sober Living for Military Veterans
Sober living environments are less structured than inpatient rehab but still provide rules and regulations that must be abided by. This type of transitional housing allows military veterans to ease into everyday civilian life as they navigate life after rehab. They can begin looking for work and connecting with friends and family while still attending therapy during their time in sober living. This is a very beneficial end program for those who need additional support once they are discharged from residential treatment.
What Makes WhiteSands Addiction Therapists the Best Option for Veterans With PTSD
WhiteSands Alcohol and Drug Rehab and its roster of therapists truly are one above competitors in that they are board-certified and highly qualified. They demonstrate years of industry-specific experience and personal experience that allow them to resonate with our veterans.
If you or someone you love struggles with a drug or alcohol addiction as an outcome of combat, WhiteSands Alcohol and Drug Rehab has an addiction therapist for veterans who have PTSD.
If you or a loved one needs help with abuse and/or treatment, please call the WhiteSands Treatment at (877) 855-3470. Our addiction specialists can assess your recovery needs and help you get the addiction treatment that provides the best chance for your long-term recovery.