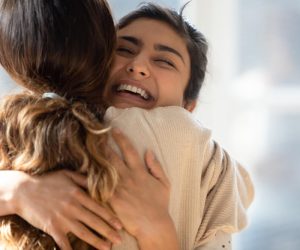 A Positive Environment That Fosters Recovery and Is Conducive to Sober Living
Whitney attended WhiteSands Alcohol and Drug Rehab in Fort Myers after realizing she could no longer continue on the destructive path of substance abuse.
"Whitesands was amazing in every aspect," she says. "​​I never expected to be surrounded by so many good people, good food, and even better help."
A patient's time at WhiteSands is second-to-none as our drug and alcohol rehab facility creates a truly invaluable experience for those who attend treatment here. One of the many elements that set WhiteSands apart from competitors is that we offer top-notch, premier amenities for patients.
"Amenities are wonderful," mentions Whitney.
Some of the many amenities offered at WhiteSands Alcohol and Drug Rehab include
A 10-acre campus with walking paths and gazebos
A brand new recreation center
A newly constructed athletic complex
A boxing program
Personal fitness training
Volleyball
Basketball
A swimming pool
Private accommodations
And so much more
Once patients have completed treatment for the day, they are welcome to enjoy the host of activities and amenities offered directly on-site. Staying healthy, active, and engaged in addiction recovery is the backbone to success as it works to keep you busy and stimulated while also giving you something to improve continuously. Setting fitness goals for yourself allows you to always work toward refinement.
If you or a loved one are struggling with addiction, call WhiteSands Alcohol and Drug Rehab today at 877.969.1993 to learn how we can help.
Learn more about our luxury drug rehab facilities in Florida here:
https://whitesandstreatment.com/2018/02/26/florida-luxury-drug-rehab-facilities/
Florida Luxury Drug Rehab Facilities and Treatment Providers
Surrounding Yourself With Positivity
Addiction recovery is a significant component of surrounding yourself with people, places, and things that support your recovery without exception. When you have a support network of individuals who are advocates for your recovery and sobriety, you lessen the chances of relapse while increasing the chances for success in lifelong recovery.
Research has proven that an individual's environment plays a significant role in influencing their risk for relapse. Namely, friends and family environmental factors play a critical role in addiction recovery and preventing relapse.
Environments that play an imperative role in sobriety are:
Home
Work
School
Social events
Recreational areas and activities
Neighborhoods
If these settings are strongly associated with substance abuse, such as drug and alcohol use, it can negatively influence your recovery and impede your sobriety. Recovery addicts need to understand coping mechanisms and trigger management skills if they intend on hanging around people and places where substance use is present. If an individual feels pressure, temptation, cravings, or an urge to use, the best thing to do is to remove yourself immediately.
If a recovering addict continuously finds themselves in substance abuse situations, the likelihood of adopting former bad habits is much greater.
Get Addiction Help Today
The recovery rate of patients who exit their stay at WhiteSands and return to life as productive, fulfilled citizens of society is very high. Our facility sets patients up for success by facilitating an aftercare and relapse prevention plan for each individual.
"I highly recommend this for anyone who wants and needs the help," Whitney says.
Recovery comes with a unique set of struggles, and you will be confronted with situations that may put your sobriety in jeopardy. Knowing how to navigate these situations properly will ensure abstinence from substance abuse.
If you or someone close to you is struggling with drug or alcohol addiction, get in touch with the WhiteSands Alcohol and Drug Rehab in Fort Myers intake team today. We are available 24/7 to take your call. The path of addiction is an imminent one, and each time you use drugs or alcohol, you are playing with a life and death situation. This is simply the honest truth about the disease of addiction. Addiction cannot be cured, but it can be treated and managed with proper therapy and addiction treatment plans.
If you or a loved one needs help with abuse and/or treatment, please call the WhiteSands Treatment at (877) 855-3470. Our addiction specialists can assess your recovery needs and help you get the addiction treatment that provides the best chance for your long-term recovery.