The Progression of Opioid Addiction: From Prescriptions to Heroin and Fentanyl
Opiate Addiction • Prescription Drug AbuseThe Progression of Opioid Addiction: From Prescriptions to Heroin and Fentanyl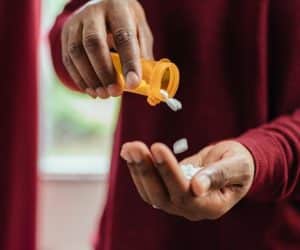 How Opioid Addiction Begins
When a person uses an opioid drug or medication, it often feels pleasurable. Opioids bind with receptors in the brain that affect mood, pain, and emotion, and they trigger the temporary release of endorphins, creating a powerful sense of well-being. When the dose wears off, it can be tempting to try and recreate that feeling by using more. Just one dose has been shown to have psychological effects on a person.
Taking opioids repeatedly causes the body to slow its natural endorphin production, building a tolerance, and soon you begin to depend on the drug to feel normal. This causes a person to act compulsively, taking the drug even though they may not really want to or using more and more of the drug to achieve a high. This process is the progression of opioid addiction.
Addiction is a complex issue involving much more than "lack of willpower." There are also behavioral, social, emotional, spiritual, and mental health components that can make a person more vulnerable to addiction, which is why attendance at a comprehensive rehab program after detox is always encouraged.
If you or a loved one are struggling with addiction, call WhiteSands Alcohol and Drug Rehab today at (877) 640-7820 to learn how we can help.
Why Prescription Opioid Addiction So Often Leads to Heroin Use
Opioid prescription drugs are controlled substances, meaning you need a doctor's prescription, and it is not easy to get a prescription for them when you no longer medically need them. People may try to obtain them in other ways, like buying Oxy pills from their friends or drug dealers, but this is expensive. It is also risky, as the upswing in counterfeit fentanyl pills can lead to immediate overdose. You never know what is in your street drugs. Because of the high cost and difficulty in obtaining prescriptions, many people turn to (less expensive) heroin.
Learn what is a Barbiturate in our blog below:
Fentanyl: The New Heroin
The Centers for Disease Control and Prevention (CDC) says that fentanyl is over 50 times more potent than heroin, and 100 times stronger than morphine, making it extremely easy to overdose when using this drug. Nevertheless, its use is on the rise in the United States. Illicitly manufactured fentanyl is cheaper to produce than heroin, and it is more powerful and addictive. Drug dealers often distribute this drug widely to increase their profits at the risk of their customers' health. Over 150 people die daily from overdoses related to synthetic opioid drugs like fentanyl.
If you believe a person is overdosing from fentanyl, call 911 immediately, then administer naloxone if available. Medical attention is always necessary for this dangerous drug as the effects are profound and long-lasting in the body.

Treatment for Opioid Addiction at WhiteSands
WhiteSands Alcohol and Drug Rehab is a luxury drug detox and rehab treatment center that provides the entire continuum of care for opioid addiction treatment. Your rehab plan will be customized to your individual needs and may include the following:
A medical detox program with 24-hour clinical care, prescription medications to keep you comfortable and safe, therapy and counseling for your emotional well-being, and holistic treatments like massage therapy and spa services to enhance your spiritual wellness

A medication-assisted treatment program to help with a long-term taper off opioid drugs. Suppose you have a serious addiction to heroin, fentanyl, prescription painkillers, or other opioid drugs. In that case, you may need long-term care with a doctor's oversight and FDA-approved medications to help you slowly stop your drug use over several months.

Dual diagnosis programs to treat those with co-occurring disorders like PTSD or mental illnesses like schizophrenia, anxiety, depression, or bipolar disorder

Full-time inpatient rehab inside our luxury rehab facility, with individual and group therapy, behavioral health treatments, physical fitness and nutrition programs, and luxury amenities like a pool, a gym, and plenty of entertainment and games, with time to relax outside of your structured treatment schedule during the day

Outpatient rehab options include the partial hospitalization program (PHP) and the intensive outpatient program (IOP)

Aftercare programs that can last as long as you like (months or even years) to keep you connected to a sober, supportive community
Please get in touch with our team to find out more about our individualized programs for opioid rehab or if you have any questions about our treatment center, our luxury amenities, or how to verify insurance coverage. We are here to help you figure out what your next step could be on your road to recovery from opioid addiction.
If you or a loved one needs help with abuse and/or treatment, please call the WhiteSands Treatment at (877) 855-3470. Our addiction specialists can assess your recovery needs and help you get the addiction treatment that provides the best chance for your long-term recovery.