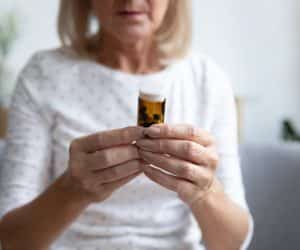 Opioid Addiction in Older Adults
Many adults often mix prescription drugs with non-prescription drugs and supplements, at risk for significant drug interaction. In 2015, 39% of drug-related deaths occurred in adults over the age of 50, with 75% of drug-related deaths in older adults due to opioid abuse. Older adults who use opioids may also become socially isolated and excluded from family gatherings. Addiction among people aged 65+ is also often underdiagnosed, preventing them from getting the help they need to live a full, healthy life.
If you or a loved one are struggling with addiction, call WhiteSands Alcohol and Drug Rehab today at (877) 640-7820 to learn how we can help.
How Opioid Addiction Develops
Many older adults begin to experience pain in their bodies, usually due to injury or surgery recovery, for which they may be prescribed opioid painkiller drugs like Morphine, fentanyl, Hydrocodone, Tramadol, Oxycodone, and Codeine. They may also be experiencing major life events that could trigger substance abuse issues, like the death of a loved one, relocation, retirement, mental health decline, financial strain, insomnia, or feeling of a loss of purpose. They are more likely to be prescribed addictive substances than their younger counterparts. These drugs, even when used as prescribed, can cause feelings of relaxation and even euphoria. They cause changes in the brain that create chemical dependency. Without the drug, the person feels off, like they can't get through the day without the drug, or they may feel pain or experience withdrawal symptoms and cravings, which leads to drug abuse and addiction.
Heroin and Fentanyl Among Older Adults
Because opioid drugs are controlled substances, obtaining prescription painkillers through a doctor can be difficult. Some people may go "doctor shopping" to get more prescriptions, but others may find that buying fentanyl and heroin on the street costs less money and is more accessible. Heroin and fentanyl abuse is not just a danger for teens; it can affect anybody at any stage of life.
Learn about the weakest and strongest opioids here:
How to Help a Parent With Addiction
Because of the parent-child relationship norms, speaking to your parent about their substance use disorder can be challenging. The following are some strategies you may wish to implement to talk to your loved one about their substance abuse:
Speak to them about addiction
Preparing for the conversation ahead of time is vital, so emotions don't get in the way of your message. Use "I" statements about how their addiction has affected you and what you would like to change. Be kind, and avoid judgment and blame. A professional interventionist can be hired to help you keep things on track and ensure you are ready for the talk.
Set boundaries in your relationship to avoid being an enabler of their addiction
Do not shield your parents from the negative consequences of their behavior. Do not call in sick to work for them, give them money, make excuses for their inappropriate behavior, or take on the responsibility of "fixing" or "holding together" their lives. It is not your job to be your parent's caretaker. This dysfunctional family dynamic enables substance use, as they know that somebody will always be there to clean up their mess. Take away the safety net for your own well-being as well as theirs.
Have treatment options ready, like information about nearby drug and alcohol rehab centers, so if they seek treatment, a solution is prepared
Before you speak to your parent about their substance abuse, you can call rehab centers ahead of time to learn about costs, insurance coverage, and what treatments and amenities they offer.
Opioid Detox and Rehab at WhiteSands
Detoxing from opioid drugs at WhiteSands Alcohol and Drug Rehab is as comfortable and pain-free as possible. We provide a medical detox program that combines 24-hour medical care, prescription medications, holistic healing methods, and mental health care to ensure you do not suffer physically or emotionally during detox.
Adults aged 55+ have a success rate in overcoming opioid addiction with professional help. At WhiteSands Alcohol and Drug Rehab, we provide customized rehabilitation programs that, through integrated treatments in a continuum of care, provide the insight, behavioral changes, emotional healing, physical health care, spiritual wellness, stress management, and relapse prevention strategies your loved one will need to overcome their addiction.
All inpatient treatment is provided in our luxury rehab center, with amenities like a swimming pool, fitness center, spa services, massage therapy, yoga, and chiropractic care. We also offer outpatient rehab services that can be done as your loved one lives at home or in a sober living facility. Please get in touch with us to learn more about opioid rehab and how we can help you or your loved one overcome addiction. We are here for you.
If you or a loved one needs help with abuse and/or treatment, please call the WhiteSands Treatment at (877) 855-3470. Our addiction specialists can assess your recovery needs and help you get the addiction treatment that provides the best chance for your long-term recovery.