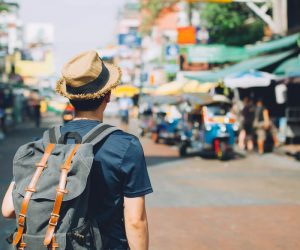 Being Conscious of Your Sobriety During Travel
Travel is a stressful process for many people, and you're right to be concerned the added stress might trigger a relapse of sobriety if you have an upcoming trip. Fortunately, you can do many things to make it easier. Below, we've compiled tips and tactics to give you your best chance at success.
As we approach both the holidays and the time of year people travel to catch some sunshine, it's important to know that travel is one of the biggest reasons people relapse from sobriety. You put hours into therapy, did the tough rehab work, and have a life you've seized from the jaws of addiction. And now you're going on vacation, or a work trip, or visiting family. It's good to do these things. However, being away from your sober support and off your regular schedule increases stress. We know that relapse happens in three stages:
Emotional relapse
Your stress begins to rise, you may feel highly anxious or irritable. You're not thinking of having a drink or using drugs, but you're definitely in a mood. You may even be angry, you're not having a very good time. You're not sleeping well, you're away from the comfort of your home, and you don't have the supports you are used to.
Mental relapse
Because you don't have access to the resources that help you stay in recovery, you cannot work on your emotional symptoms and then transition into this second phase of relapse. Part of you wants to use drugs, but part doesn't. There's a real internal struggle between these parts. You may be uncontrollably fantasizing about using drugs/alcohol. As this continues, your cognitive resistance diminishes, and your need to stop how you feel intensifies. You're at a high risk of relapse.
Physical relapse
Unable to stand the way you're feeling you give in to the urge, and use drugs/alcohol, perhaps even thinking you can control it this time. To prevent this cycle from happening, a relapse prevention plan must be in place before you travel.
If you or a loved one are struggling with addiction, call WhiteSands Alcohol and Drug Rehab today at (877) 640-7820 to learn how we can help.
20 Relapse Triggers You May Experience During Travel
It's important to plan for many variables when you're traveling sober to avoid triggering the emotional stage of relapse. You should prepare for things like:
Losing your tickets or itinerary
Losing your luggage
Missing a connection
Being bumped off the flight
Security taking forever
Standing in long lines
Crowds of people
Easy access airport bar
Jet lag
Losing your credit card or having funds stopped
Being around other people who are drinking and partying
Cheap drinks
Other vacationers pressuring you to have a good time
Insomnia
Stomach upset
Turbulence in flight
Rude service staff or passengers
Being unable to exercise normally
Being away from peer support groups
Being off your normal routine
A lot is going on when you travel, so it is crucial to have a plan in place on how you will cope with strong negative emotions should you experience them. And there are things you can do to ensure you have the most support possible to navigate your trip sober, like:
Attend a virtual peer support meeting while on vacation or one locally at your destination
Resolve to stay sober
Travel with a sober friend
Avoid party vacations like Las Vegas, or an all-inclusive cruise or resort
Minimize travel stress by booking direct flights and being early
Have a close family member or friend to touch base with
Have the alcohol taken out of your room before you get there
Don't go to bars or nightclubs
Do sober activities while on vacation
What You Should Do If You Relapse
Substance use disorder, also called addiction, is a complex disease that very few people put into remission and never relapse. Recovery from a substance use disorder is a life-long process, and it is in fact common for people to relapse. You may feel devastated after a relapse as if you've failed yourself and your family and friends. You might feel hopeless, that you will never recover, and that no one can help you. None of these things are true, they are all symptoms of your disease. You recovered from addiction once before, and you will do so again. If you relapse here are some of the first things you should do:
Acknowledge you made a mistake: Everyone makes mistakes, and taking ownership of our actions is important.
Do something about it immediately: Don't wait, take action right now to address the relapse
Contact your support network of friends, family, therapists, and doctors to tell them about your relapse
Get professional help from addiction and mental health specialists to work through your relapse
Be kind to yourself: Addiction isn't a moral failing, it's an insidious disease that you need help to treat
You must learn from the experience of relapse to strengthen your cognitive resistance against it. Accept that relapse is a normal part of recovery from addiction, and get help to bring you back to the path of sobriety.
Get Help for Your Substance Abuse Today
With over 20 million Americans living with addiction at any given time, it is important to know that you are not alone in your battle for sobriety. Addiction is a disease that can strike anyone at any time in their life. We are all susceptible, and none of us are immune to drug and alcohol addiction. At Whitesands Alcohol and Drug Rehab, we employ a whole-body approach to treating substance use disorders, focusing on nutrition, exercise, and creating healthy habits that will last a lifetime. We also believe in supporting our patients with aftercare and offer a 24/7 support line for patients to call anytime they are struggling.
Our facilities are beautiful, private, and comfortable. When you attend rehab at Whitesands Alcohol and Drug Rehab, you will be treated as a treasured guest outside of daytime therapy hours, with your comfort and safety as our top priority. We offer private rooms with queen-sized beds and satellite flat-screen TV. Our kitchen staff is experts in recovery nutrition, providing healthy, delicious meals that can accommodate many dietary restrictions like gluten-free or vegan. We offer a state-of-the-art recreation center for our patients to use, as it is known that regular exercise is vital to staying in recovery. Patients can utilize our boxing ring, where they will be trained by coaches and professional fighters to spar using a heavy bag and boxing mitts. You can even watch fighters train and compete in boxing matches. We also have beautiful pool lounge areas, perfect for reading a book or simply enjoying the sun.
No matter what you're going through, there is hope for your recovery. Our admissions experts are standing by 24/7 to guide you through the rehabilitation process and answer any questions you might have. If you've relapsed from your recovery there has never been a more critical time than right now to seek help, allowing our staff the privilege of helping you get back on track. We help people from all walks of life create a better future for themselves and their families, and we can help you too. Call us today.
If you or a loved one needs help with abuse and/or treatment, please call the WhiteSands Treatment at (877) 855-3470. Our addiction specialists can assess your recovery needs and help you get the addiction treatment that provides the best chance for your long-term recovery.