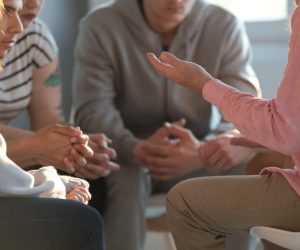 Making The Decision to Go to Rehab
It's not uncommon for people who have decided to enroll in addiction treatment at a drug rehab center to feel unsure about how to tell people about their decision or that they've been struggling with a drug abuse problem. Yet, many people also do not want to worry their friends by simply disappearing for a time. The choice is an individual one, but remember that it's up to you about who to tell and how much to explain about your struggles. Good friends will understand and support your decision. They may also feel relieved to know that you are tackling your addiction to drugs in the best-possible way–entering a quality drug rehab center where you'll get the support you need to achieve lasting recovery.
The following information can help you tell your friends about your rehab enrollment and why you've decided to enter treatment. It is very likely that your good friends will support your choice and may ask how they can support you during or after your treatment.
For many people, deciding to enroll in drug rehab is a momentous one. They may have endured a process to arrive–to finally arrive–at this important decision. Being dependent on a drug physically and psychologically can encompass their lives. Drug use may be pleasurable for a time, but when that use becomes uncontrollable, it is primarily because addiction has set in. When people realize they are addicted they have two options: continue their present course or stop using.
Many drug users do attempt to stop using, but it can be nearly impossible for many to stop using without support. Drug rehab is the ideal place to obtain this support. It is the right course of action if you decide to go to rehab. Continuing to abuse drugs and alcohol will only further erode your physical and mental health. Rehab supports the healing process while helping you to overcome your dependence and manage your addiction for the long term.
If you or a loved one are struggling with addiction, call WhiteSands Alcohol and Drug Rehab today at (877) 640-7820 to learn how we can help.
How to Provide Reasons Why You're Going
You can provide your friends with an explanation of why you're going to drug rehab if you choose. Providing your own explanation will prevent your friends from worrying about you and even contacting your family. By telling them yourself, you can ensure that they know precisely why you've made this decision. You only have to tell friends you're comfortable telling. You may choose to tell them individually or in a group setting. To convey the reasons why you're enrolling in addiction treatment, you can simply explain the benefits of treatment.
Explain the Benefits of Rehab
There are numerous benefits to entering drug treatment for a substance use disorder:
Treatment Immersion
Entering rehab for inpatient treatment enables a person to immerse themselves in their treatment without distractions. Focusing exclusively on their treatment, particularly during the early stages of recovery, people are less likely to be distracted by things in their family, within their social circle, or at the workplace. Prioritizing their treatment is crucial for overcoming drug addiction.
Learn About Their Condition
Substance use disorders are chronic conditions. While drug dependence can be overcome, addiction remains. This means that there isn't a cure for addiction. To manage it, a person must abstain from using the substance they became addicted to and other addictive substances (because they're vulnerable to developing other substance use disorders). If they do not manage it, relapse occurs, and the cycle of drug abuse begins anew. By entering rehab, people will learn extensively about their condition. This knowledge will help them manage their addiction better.
Identify Their Triggers
Triggers are the factors that compel a person to abuse drugs and alcohol. Triggers can be external factors like peer pressure and internal factors like anger. During addiction treatment, clients spend considerable time identifying their triggers and understanding the underlying factors associated with their drug habit. It's no small task to unravel why one felt compelled to turn to drugs and abuse them. Some people have undiagnosed mental health conditions like anxiety or depression that leave them vulnerable to drug abuse. Others may have developed the habit as a way to cope with stress such as workplace stress.
Many triggers and risk factors are associated with drug abuse. Common triggers include past trauma, mental illness, chronic stress, negative emotions (i.e. anger, loneliness), physical illness, growing up with a parent who abused drugs or alcohol, and a genetic predisposition.
Learn to Manage Triggers
To stop using drugs, a person must manage their triggers effectively, or relapse is likely. After learning to understand their triggers and why they turned to drugs, you can explain your desire to manage these triggers and risk factors to maintain your recovery. Rehab treatments will focus on helping you learn to protect your sobriety.
Heal
Rehab will help you heal your health and other essential aspects of your life. It is the safest path to your 'rehabilitation' and overall well-being. Drug rehab can help you end your dependence and remove the risk of overdose from your life.
Ask Friends and Family to Support You
By telling your friends and family of your plan to enter rehab, you can invite them to support your decision and help you in various ways as you complete your treatment program and after you leave rehab. Your needs may vary. Some common ways that family and friends can help you include:
Talking to you when you need to talk
Taking care of your pet while you are in rehab
Watering your plants or getting your mail while you're in rehab
Learn about substance use disorders
Participate in family counseling
Practice acceptance and patience
Refrain from using drugs or alcohol around you
The support of family and friends can enhance the recovery process. Recovery is a long process that continues well after rehab is completed. The support of family and friends can make the process feel less isolating and, therefore, less challenging. Most people will experience stress and days when they're vulnerable to relapse; the support of friends and family can be essential for many people in relapse prevention.
See how parents can prevent drug abuse here:
Start Your Recovery Journey Today
WhiteSands Alcohol and Drug Rehab specializes in substance abuse treatment. We cover all levels of care, including medical detox, inpatient treatment, and outpatient treatment programs. We employ evidence-based treatments like cognitive behavioral, alternative, and holistic therapies to support addiction recovery. Our treatment center can also provide dual diagnosis treatment for clients with a mental disorders and addiction. WhiteSands Alcohol and Drug Rehab has been ranked as the best drug rehab in Florida by Newsweek and is renowned for its treatment success.
Our rehab features a team of caring addiction specialists with the expertise to guide each client on their road to recovery. We also believe in individualizing treatment to ensure that each person gets the support they need. Decide to enter rehab as soon as possible. Let us help you overcome your drug dependence and safeguard your health and future.
If you or a loved one needs help with abuse and/or treatment, please call the WhiteSands Treatment at (877) 855-3470. Our addiction specialists can assess your recovery needs and help you get the addiction treatment that provides the best chance for your long-term recovery.