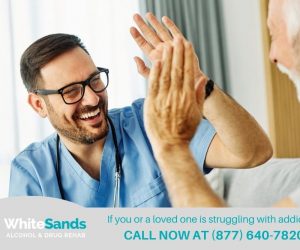 How to Find the Best Orlando Alcohol Rehab Centers
Alcohol use disorder, or alcohol addiction, is something that often requires professional help to overcome. The mental health disorder becomes progressively worse the longer you put off getting help when attempts to stop by yourself have fallen short. Once you decide it's time to get help, finding the best Orlando alcohol rehab centers can be a crucial part of your recovery journey.
The best alcohol rehab center is one that provides a comprehensive, personalized treatment that includes medical detox, holistic treatment, behavioral therapies, and aftercare programs. Comfort is also important to your treatment since recovery should be a healing experience. At WhiteSands, we believe that a comfortable guest becomes a successful patient and our amenities and therapeutic environment help to create an environment to foster recovery.
Awards, accreditation, and reviews can be excellent indicators of a rehab center. While many rehabs may be accredited, few have won awards and public reviews can reveal insights into how people responded to the treatments and programs offered at a particular rehab.
Finding the best Orlando alcohol rehab center can be the difference between relapse and long-term sustainable recovery. Moreover, the rehab that you choose will become a part of your life for several months or even years through alumni programs and follow-up treatment. To help you get the best chance at sustainable recovery, we will explore what you should look for in a rehab center and why choosing the best rehab that can provide you with the therapies and treatments needed to overcome alcohol addiction in Orlando is important.
If you or a loved one are struggling with addiction, call WhiteSands Alcohol and Drug Rehab today at (877) 640-7820 to learn how we can help.
Orlando Alcohol Rehab Centers: 5 Steps to Finding the Right One
Finding the best alcohol rehab is often about finding the most effective rehab for you or a loved one because addiction uniquely affects each person and people respond differently to various types of treatments. Once you've chosen to get professional help and have decided on an alcohol rehab that will work for you, how should you prepare for your time at rehab?
The following steps can help you to prepare for rehab and recovery from alcohol addiction:
Look to your family and work obligations: Before entering into a residential alcohol

rehabilitation centers in Tampa

, you'll want to ensure that people close to you who may rely on you are taken care of or know that you'll be away during your stay treatment. Your work will also need to know so that you can ensure that you don't lose your job while away at rehab.
Deal with your finances or legal obligations: Bills will still need to be paid while in alcohol rehab so you should set up automatic payments or rely on someone you can trust to pay your bills for you. Along with this step, you will want to contact your insurance provider to check on your deductibles, copays, and coinsurance that might come from your treatment coverage.
Pack your essentials: You may want to bring many things to make you more comfortable, but you should focus on bringing only the essentials you'll need during inpatient alcohol rehab. Contact your chosen rehab to see what they allow and don't allow and what they suggest you bring.
Take time to relax: This can be a stressful time in your life before entering rehab but it's important to take some time to relax. Enjoy a book, or a relaxing bath, or watch some of your favorite shows.
Read up on what to expect if you feel nervous: If you feel nervous about going to an Orlando addiction treatment center, then reading up on what you can expect can help to put you at ease. In truth, rehab is often a transformative and healing experience surrounded by caring people, and by the end of your alcohol addiction treatment program, you will probably miss the people and healing environment.
What Are the Benefits of Choosing Orlando Alcohol Rehab Centers?
The benefits of each rehab center can be vastly different depending on several factors. At WhiteSands, you will have several benefits to take advantage of at the leading alcohol addiction treatment center in Florida. Being close to home can make family visits and outpatient rehab much easier to accomplish.
Many rehabs such as WhiteSands encourage family involvement through family therapy and family visits so going to an alcohol rehab near you can benefit your recovery. Attending your regular treatment programs and therapy sessions is also much easier when the rehab is near you.
At a luxury rehab such as WhiteSands Alcohol and Drug Rehab, your recovery will be enhanced by the amenities and comfort available to you. At WhiteSands Alcohol and Drug Rehab, we believe that a comfortable guest during treatment helps improve their recovery, and our accommodation and amenities help support this process.
Another important benefit of choosing Orlando alcohol rehab centers is that you will join a local recovery community. This may include 12-step recovery meetings in your area and alumni programs that offer a platform for friendships, support, and guidance.
The Importance of Finding an Orlando Alcohol Rehab Center
Alcohol use disorder is one of the most harmful addictions there is – even more harmful than meth and heroin according to a Lancet study that looked at the most harmful substance addictions, ranking them based on their impact on the individual, society, and the community. Finding professional help for alcohol addiction through an Orlando alcohol rehab center can be a life-defining experience.
A leading alcohol rehab center such as WhiteSands gives you the medical supervision and support that you need to heal from the causes of your addiction. Getting professional treatment opens the door to long-term recovery which may otherwise not be possible due to underlying causes such as co-occurring mental health disorders. You will also be surrounded by support people who may be your recovery peers or staff members who are compassionate and empathetic.
Since alcohol withdrawal symptoms can be dangerous and even fatal, access to a medical detox program is crucial as it allows you to receive round-the-clock medical support and important medications to manage your symptoms safely. Being in a rehab program, especially an inpatient alcohol rehab program, will help you to avoid relapse which you are at high risk of during the early stages of recovery.
Learn More About Orlando Alcohol Rehab Centers at WhiteSands
Addiction thrives when people are isolated from others that can help. WhiteSands Alcohol and Drug Rehab can offer you a way to overcome your alcohol addiction and heal from the real causes that have led you to abuse alcohol. It's never too late to find the help you need to break the devastating cycle of substance abuse.
You can learn more about our comprehensive alcohol rehab programs at WhiteSands Alcohol and Drug Rehab or start your recovery from alcohol use disorder today by contacting our alcohol rehab center in Orlando today.
If you or a loved one needs help with abuse and/or treatment, please call the WhiteSands Treatment at (877) 855-3470. Our addiction specialists can assess your recovery needs and help you get the addiction treatment that provides the best chance for your long-term recovery.