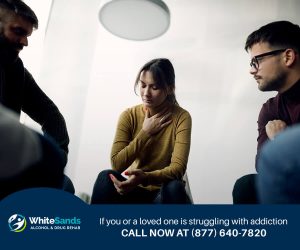 Tampa, Florida — A man who got help for addiction has offered a rave review of his experience at WhiteSands Treatment in Tampa.
In his recent 5-star Google review, David praised his therapist for her work to help him during his treatment. He wrote that the "true professional who genuinely cares about people" is "compassionate, non-judgmental, and exceptionally knowledgeable in her field."
"Working with her has been transformative, and I highly recommend her to anyone seeking a skilled and compassionate therapist," he wrote, adding that he was grateful for the therapist's "professionalism and unwavering support."
WhiteSands Treatment is no stranger to rave reviews for the work of its therapists, support specialists, and other experts and professionals who help people of all ages and from all walks of life overcome their struggles with drug and alcohol addiction and achieve lasting recovery.
WhiteSands operates a network of several outpatient addiction treatment facilities across Florida, as well as three inpatient drug and alcohol rehab centers, including the one in Tampa where David found the support and help he needed.
At all locations, patients can expect access to the latest evidence-based addiction treatment methodologies and the support they need to start on the path to a better, healthier, happier future. In addition, WhiteSands is known for offering amenities and services that go far beyond what would be expected at addiction treatment facilities, including holistic therapies like art therapy and an innovative boxing program that helps people fight addiction.
It's no wonder that this combination of safe, effective, compassionate addiction treatment, along with cutting-edge amenities and a convenient network of facilities across the state, has helped WhiteSands Treatment develop a reputation as the best drug and alcohol rehab in Florida.
In fact, Newsweek has declared WhiteSands to be the best Florida addiction center for three consecutive years while also listing it as one of the best addiction treatment facilities in all of America.
Learn more about WhiteSands Treatment's Tampa location and the work that this network of treatment facilities does across all of Florida by calling 877-626-1765 or visiting www.whitesandstreatment.com.
If you or a loved one needs help with abuse and/or treatment, please call the WhiteSands Treatment at (877) 855-3470. Our addiction specialists can assess your recovery needs and help you get the addiction treatment that provides the best chance for your long-term recovery.