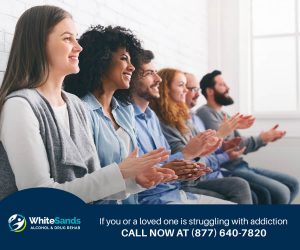 An Overview of Family Therapy in Addiction Treatment
Family therapy usually entails interventions at the family level of assessments, involvement, and approaches. There's evidence that suggests people who have the strong support system of their family during addiction treatment have a higher chance of stopping misusing substances and staying sober. It usually involves everyone in the family meeting with a therapist; however, sometimes individual members of the family will meet with the therapist separately. There are many benefits of seeking family therapy during addiction treatment, which is an increase in family support, reduce risk of relapse, and improved understanding of addiction and how it affects families. 
Benefits of Involving Family in Addiction Treatment
Besides having your family there as a support system during addiction treatment, there are also two other benefits of involving your family in addiction treatment. The two benefits are fostering understanding and empathy and improving communication and trust. 
 Fostering Understanding and Empathy
Family therapy promotes understanding and empathy within the family dynamic. It's a judgment-free zone to get to know how someone going through addiction treatment is feeling and how their family is feeling through the whole process. This gives them a safe place to process their emotions and have a professional guide them through talking and communicating how it's affecting them all mentally. 
Improving Communication and Trust
Family therapy can make it easier to communicate within the family. A lot of times people are more closed off and not as open in public talking about addiction, so having a private space to freely talk can improve the trust within people. This can also give them a safe place to get anything off their chest and increase trust within the family dynamic. 
The Process of Family Therapy in Naples Addiction Treatment
The process of family therapy in Naples rehab centers varies from rehab to rehab. WhiteSands Treatment's family therapy program entails an educational series on the medical aspects of co-dependency and group and individual therapy. The approach that WhiteSands Treatment uses for family therapy is community reinforcement and family training (CRAFT). CRAFT takes a more structured approach to teach families how to deal with substance use disorders and positive reinforcement strategies to help change their substance use behavior. 
Naples Resources for Family Therapy
Naples has a ton of resources for family therapy. When looking online, there's a credible website called PsychologyToday.com that allows you to search for therapists that take your insurance in the Naples area or do family therapy in general. You can search in the database however specific or vague you want to be. WhiteSands Treatment in Naples offers family therapy and support groups as resources for you and your family. 
Dealing with a Loved One's Addiction Through Family Therapy In Naples
Family therapy helps family members cope with the issues that arise from having a loved one go through addiction treatment. A lot of times addiction to a substance happens because of an internal source that comes from your mind. People often use alcohol or drugs as a way to relieve stress and that stress can come from personal relationships like your family. Family therapy can help find the root problem that has caused this history of substance use disorder. It's also possible the patient or the family members might also have some type of mental health issue like anxiety for example. Some of the issues family therapy can help with are stress, anger, strained relationships between family members, trauma, and divorce. Family therapy provides a supportive, judgment-free, and safe environment to talk as openly as you want with a mental health professional present. Your therapist is there to mediate the conversation in a healthy way of expressing how everyone in the family feels. Some of what the therapist might do to help make sure the conversation is flowing freely is: 
Asking each family about the concerns and challenges and hopes they have about family therapy

Encouraging everyone in the room to talk and listen to each other

Rephrase what everyone is saying and feeling so everyone else understands correctly

Help each family member understand the impact of their words and actions

Help your family figure out how you can work together to make positive changes

Suggest strategies for changing problematic behaviors and patterns
Role of Family Therapy in Relapse Prevention
When receiving family therapy, it's part of the addiction treatment that a patient may receive. Many family therapists have adopted a family systems model, which views alcohol and drug abuse as a symptom of a dysfunctional family dynamic. It's based on the view that a family is a system that affects each person on how it functions. Family therapy provides many benefits for addiction, which can in return prevent relapsing. The benefits of family therapy are:
A better understanding of addiction and how it affects each person's behavior: this happens through education that comes from the self-assessment during therapy and insight from the therapist. 

Becoming fully aware of family dynamics: Toxic family patterns contribute to continued substance use. 

Improving communication: This requires an investment in people's interest in having a successful recovery outcome. 

Regaining trust: A lot of times dishonesty and substance abuse go hand in hand. Seeing improved communication, honest interaction and positive changes can help mend the breach of not wanting to be trusting. 

Sharing feelings: Family members who are angry are sometimes unable to express their feelings and that's why sharing feelings can help during therapy. The process gives you the time to learn how to recognize, balance, and healthily express your repressed feelings. 

Setting boundaries: It's necessary to figure out if you have to detach from a family member who triggers your bad habit of drugs or alcohol. 

Learning self-care: Usually addiction treatment focus on the person with the addiction. Family therapy focuses on the patient and family members who also might need help.
Frequently Asked Questions
What is the significance of family therapy in addiction treatment in Naples, FL?
Some people who do family therapy are doing it during addiction treatment because the struggles they have with their family have contributed to substance use disorder. There might be more room for people to express their feelings about family members with no filter, which might offend them. 
How does Naples' approach to family therapy enhance addiction treatment?
There are different approaches therapists can use during family therapy. The one used at a Naples facility like WhiteSands Treatment is community reinforcement family training (CRAFT). CRAFT is the approach of teaching families how to use positive reinforcement strategies to help encourage loved ones to change their behaviors that correlate with substance use. 
What are the benefits of participating in Naples-based family therapy for addiction treatment?
Family therapy in Naples has many benefits. Some of the benefits of family therapy are increased family support, reduced risk of relapse, helping families understand the importance of taking responsibility for their emotional well-being, and helping the family make positive changes related to substance use disorder. 
What resources are available in Naples for family therapy during addiction treatment?
Naples has many resources available for family therapy in general. You can find the best fit for a therapist by looking online on a credible site that has all the therapists in your area and takes your insurance. Get family therapy in Naples at WhiteSands Treatment by calling them at 877-640-7820. 
How does family therapy in Naples help in preventing relapse during addiction treatment?
When receiving family therapy, it can be a therapeutic experience to talk about all the issues and mishaps going on in your and your loved ones' lives since they've been addicted. When people have a safe place to talk about and express their emotions and feelings, it gives them time to process them and prevent relapse from future emotional breakdowns. 
How can family therapy in Naples help me manage the effects of a loved one's addiction?
Family therapy programs in Naples provide practical skills to cope with someone going through addiction treatment. It also helps with emotional support during this tough time in a loved one's life. 
What should I expect from a Naples-based family therapy session during addiction treatment?
Family therapy sessions usually are a judgment-free space for people in the family to talk freely about any issues as their loved one is in addiction treatment. It usually is mediated by the therapist and the therapist might stop them from talking to help them reflect and understand what they are saying. 
How can I encourage my loved one in Naples to participate in family therapy as part of their addiction treatment?
It can be tough to convince someone to do anything, especially someone who had to admit to their faults of addiction. One of the tips to encourage a loved one to participate in family therapy is to be patient and understanding of what they tell you and let them know you're here for them but that a mental health professional would be better equipped to help them. 
How do family therapy programs in Naples address challenges during addiction treatment?
Some challenges that might happen during family therapy programs are conflict, disagreement, and not being truthful from the beginning. This is completely normal and happens in any family, which is why it's the best idea to seek professional help and have a therapist mediate the conversation if there are any hiccups. 
How long does family therapy typically last during addiction treatment in Naples?
The length of receiving family therapy varies between the patient and their family. It also depends on the duration of their addiction treatment. It can be the whole time they are receiving addiction treatment or be longer after treatment is done for the patient. It's a personal preference as well as one that depends on the outcomes of therapy. 

If you or a loved one needs help with abuse and/or treatment, please call the WhiteSands Treatment at (877) 855-3470. Our addiction specialists can assess your recovery needs and help you get the addiction treatment that provides the best chance for your long-term recovery.