Choosing Local Addiction Treatment in Tampa, FL
addiction and recoveryChoosing Local Addiction Treatment in Tampa, FL
Understanding the Need for Addiction Treatment
Addiction puts a huge toll on someone who uses drugs or alcohol and their loved ones. Addiction can ruin your physical and mental health and also your personal relationships with others. It's important to get help before it's too late and ends in a fatal overdose. It's not easy to recover from substance abuse but it's even more difficult recovering without a support system.  WhiteSands Treatment offers addiction treatment in Tampa, which is an inpatient facility. 
Benefits of Local Addiction Treatment in Tampa
People seeking addiction treatment need to consider which facility and where they are willing to go for it. Most people want to stay around family and continue to have support nearby, so they choose a local rehab center. There are many benefits to choosing a local addiction treatment center. The benefits of local addiction treatment in Tampa are: 
Less of a barrier to accessing treatment: Being able to just not drive or commute far for addiction treatment gives you less of a chance of barriers. 

Being close to home with a support network: Not only can your family visit you if you're in an inpatient facility, but they can also support you along the way of treatment by taking you to appointments or just being there afterward for moral support. 

Access to aftercare services and ongoing support: Being so close to friends and family will ensure aftercare gets taken care of by having that support system on top of the support system at the rehab center. 

The flexibility of local outpatient addiction treatment programs: Outpatient addiction treatment centers have the flexibility for working people and people who are in school. Local addiction treatment programs are the only way that outpatient treatment could work because it would be too much to stay in a hotel to then go and receive treatment for an hour or so. 

Reduced costs of local addiction treatment: Since you don't have to travel far or stay over somewhere nearby, you cut a lot of those costs that can occur with addiction treatment far away from where you live. Addiction treatment isn't cheap, so cutting down some costs helps patients feel less strapped financially. 
Tampa Addiction Treatment Centers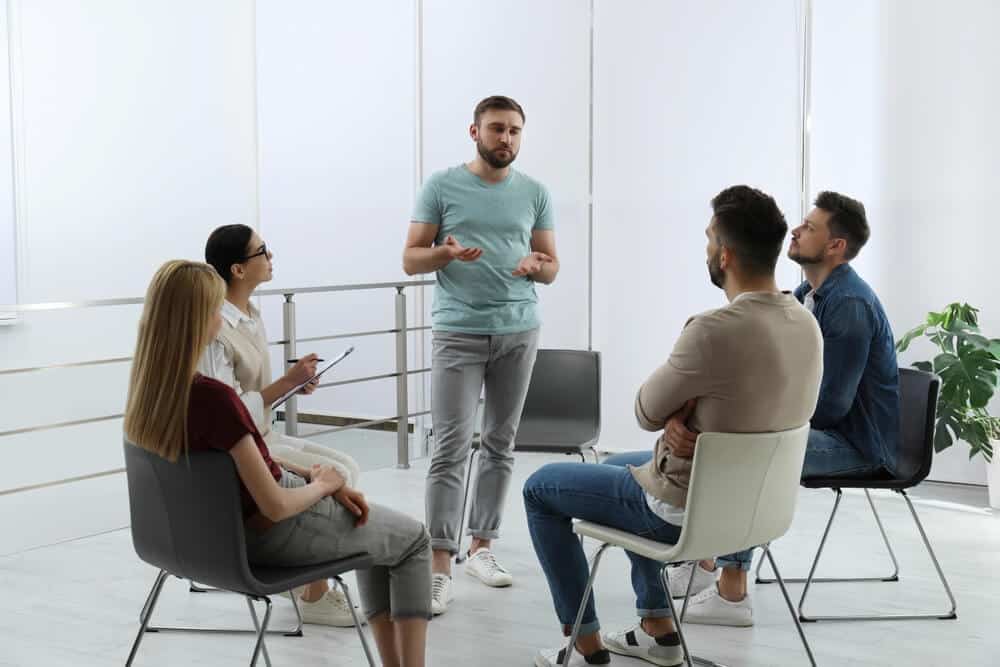 The Tampa area is a big city with a large population. With that being said, there are tons of options for addiction treatment centers in Tampa. A Top addiction treatment center in Tampa is WhiteSands Treatment. They offer inpatient and outpatient rehab, so patients get the option to choose which one would be best for them. WhiteSands Treatment also offers medical and holistic treatment options. The holistic treatments they offer are the following: 
Yoga: This type of exercise has been reported to increase amounts of producing the neurotransmitter GABA, which is in charge of controlling feelings of fear and anxiety. This gives patients a sense of calmness, which was lost while dependent on drugs or alcohol. 

Biofeedback: This procedure occurs when biological information is measured from the body of the patient and then fed back to them, so they can learn how to control it better. 

Art therapy: Sometimes people are less inclined to express their feelings verbally in therapy, so instead it's less intimidating to use art to express how they feel. 

Chiropractic care: Studies show that when the vertebrae in the spinal column are misaligned the neurotransmitters in the brain can't function correctly. 
WhiteSands Treatment also does an initial assessment of not just the history of substance abuse but also how you are physically from drugs or alcohol. The initial assessment will go into more depth on what treatment options at WhiteSands would be best for the patient as every patient is treated by their own individual needs and aren't subject to other patients' treatment plans. 
 Tampa Addiction Treatment Facilities
Tampa addiction treatment facilities offer intensive outpatient services, inpatient services, counseling, and aftercare. WhiteSands Treatment offers all these services in their Tampa facility. Intensive outpatient services are best for people who are very busy and work or are still in school, so they can't stay in an inpatient facility. WhiteSands intensive outpatient program consists of patients visiting the treatment center about three days a week for in-depth cognitive behavioral therapy. After spending full days in the rehab facility, patients get to return home in the evenings, so they don't stay overnight. Inpatient services are for people with very severe substance use disorder who need the control of staying in a facility and having 24/7 supervision and care. Therapy services are also offered for both inpatient and intensive outpatient patients as well as aftercare after they finish rehab. Aftercare at WhiteSands Treatment consists of sober living homes, therapy, and support groups. 
Choosing the Right Addiction Treatment in Tampa
It can be a difficult process to choose the right addiction treatment in Tampa. You have to find the best addiction treatment facility best for you or your loved one. This can depend on many factors, which are but not limited to the following: 
The severity of addiction: Addiction can affect people in a range of different severities. The more severe the addiction is the more controlled and hands-on the treatment needs to be for the patient. 

Cost: The cost of addiction treatment can be very expensive and hard to wrap your head around funding it. Luckily, most rehab centers take insurance, so find one that takes your insurance. 

Treatment approach: Everyone has their own preference for how they want the treatment approach to be for addiction treatment. Find a rehab that aligns with the approach you want for treatments. 

Personal preferences: Addiction treatment is a very personal experience and is very uncomfortable at the beginning. Find the best rehab for your personal needs so that you could see yourself feeling comfortable enough to get the help you need. 
Recovery Success Rates in Tampa Addiction Treatment
There's a high recovery success rate for local addiction treatments in Tampa, especially when incorporating methods like art therapy for addiction treatment. This has to do with all the advantages and benefits. The local centers give them the security of having a familiar support system and also being financially okay to get the help they need. People are more motivated to continue treatment when they are being supported and have the safety net of being able to see loved ones and friends after treatment. If you're in need of a local addiction treatment in Tampa, call WhiteSands Treatment at 877-640-7820.
FAQs
What is the main benefit of choosing local addiction treatment in Tampa?
There are so many benefits to choosing local addiction treatment in Tampa. Some of the main benefits of choosing local addiction treatment in Tampa are being in familiar surroundings, strong support networks, and long-term follow-up and care. 
Are there different types of addiction treatment centers in Tampa?
The different types of addiction treatment centers in Tampa are inpatient, outpatient, and residential programs. Inpatient treatment programs are for people that need 24/7 care and supervision. Outpatient treatment programs are for people who are in school or work and can't spend time living in a facility or have a less severe case of addiction. Residential treatment programs are just what it sounds like, you stay in the facility for an extended amount of time, usually around one to three months. 
How do I choose the right addiction treatment in Tampa?
It can be tricky choosing the right addiction treatment in Tampa. The best factors to look for when choosing an addiction treatment center best for you are the level of care needed, cost, location, program approach, and success rates of the patients. 
What services do Tampa addiction treatment facilities offer?
The different services offered by Tampa addiction treatment facilities are medical detox, counseling, therapy, and aftercare planning. Medical detox consists of slowly decreasing the dosage of drugs or alcohol and getting rid of the toxic substances in her system. Counseling and therapy go hand-in-hand and provide emotional support and guidance. Aftercare planning is important to figure out what you need to do to live a sober life outside of rehab and after rehab is over. 
What are the success rates of Tampa addiction treatment centers?
The success rates of local addiction treatment centers have to do with the factors of follow through with aftercare, quality of the program, and the level of personal commitment. 
What is the first step toward getting treatment in Tampa?
The first step toward getting treatment in Tampa is recognizing you have a problem, reaching out to local treatment centers for more information, and getting an initial assessment. 
Can family and friends visit during the addiction treatment?
It depends on the specific facility, but most addiction treatment centers have specific times and days when they allow visiting during treatment. Family visiting can impact someone going through addiction treatment in a good way giving them a strong support system. 
If you or a loved one needs help with abuse and/or treatment, please call the WhiteSands Treatment at (877) 855-3470. Our addiction specialists can assess your recovery needs and help you get the addiction treatment that provides the best chance for your long-term recovery.