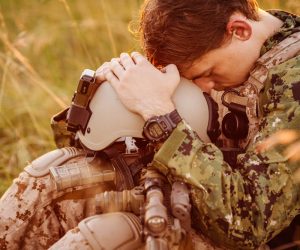 Problematic Substance Abuse and Addiction Affect The Lives of Service Personnel
WhiteSands Alcohol and Drug Rehab is a premier drug and alcohol addiction treatment facility with inpatient and outpatient locations throughout Florida offering personalized treatment designed uniquely for veterans and first responders.
With June being PTSD (Post-Traumatic Stress Disorder) awareness month, we wanted to highlight the barriers and struggles faced by veterans, military personnel, and first responders.
Co-occurring disorders can take a devastating toll on all areas of an individual's life and can impact their ability to not only sustain employment but live fulfilled, successful, and rewarding lives as well. In turn, the quality of life for these individuals deteriorates.
If you or a loved one are struggling with addiction, call WhiteSands Alcohol and Drug Rehab today at 877.969.1993 to learn how we can help.
Importance of Professional Support
WhiteSands Alcohol and Drug Rehab recognizes the need for more accessible support and help for veterans and first responders and offers programs specified to the distinctive needs of service personnel.
Support groups and ongoing care are crucial components to sustained recovery and provide the guidance and continuity of counseling for service members.
Having resources available for those who are struggling betters their ability to access help which, in turn, improves recovery outcomes. Along with WhiteSands Alcohol and Drug Rehab, the Substance Abuse and Mental Health Services Administration (SAMHSA) and the National Institute of Mental Health (NIMH) provide many resources designed to help people with PTSD.
Addiction Prevention for Military Substance Abuse
When veterans and first responders know where to turn and how to access help, support, and guidance, they can reap the benefits of the tools and resources available. This option provides them the knowledge base which can facilitate methods to leading a productive life. By recognizing the signs of substance abuse and identifying the root cause, a solid framework for recovery can be crafted, leading to a sober and better life.
WhiteSands Alcohol and Drug Rehab is dedicated to helping ex-military and first responders get the help they need for their drug or alcohol addiction. By providing tailored treatment programs designed for the patient's unique needs, the chances of sustained sobriety become more likely.
When patients are confident that they will succeed in long-term sobriety, they become committed to ensuring they stay on their recovery path. We offer outreach and follow-up care for ex-military and first responders, which is designed to establish ongoing support and rapport with patients to understand help is always within reach.
WhiteSands Alcohol and Drug Rehab is rated the No. 1 treatment center for drug and alcohol addiction in Florida by Newsweek. With board-certified psychiatrists, registered nurses, and highly qualified and certified clinical staff, we were able to earn their ranking as a top-performing facility across the U.S. Our impressive inpatient facility spans over a 10-acre campus. It features private rooms, a newly-constructed recreation center and athletic complex, and offers a full range of comprehensive levels of care.
If you or a loved one needs help with abuse and/or treatment, please call the WhiteSands Treatment at (877) 855-3470. Our addiction specialists can assess your recovery needs and help you get the addiction treatment that provides the best chance for your long-term recovery.