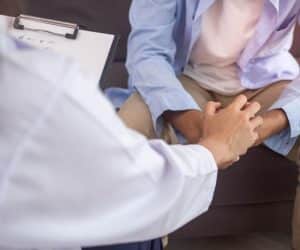 Using Ketamine for Depression: How it Works
Ketamine infusion therapy in Florida is a treatment option that is becoming increasingly popular in individuals struggling with severe depression and treatment-resistant depression (TRD). 
There are two main types of ketamine therapy for depression:
Ketamine infusion therapy (IV)

Nasal spray – Esketamine (Spravato) – FDA-approved
In the WhiteSands ketamine clinic, patients will be administered a dose of ketamine over one hour and attend two sessions per week for one month. The clinical setting is professional and thorough, and patients will be closely monitored throughout their time. This innovative treatment modality can help those with diagnosed mood disorders, chronic pain, depression, and anxiety.
If you or a loved one are struggling with addiction, call WhiteSands Alcohol and Drug Rehab today at (877) 640-7820 to learn how we can help.
What Is Ketamine?
Ketamine is an FDA-approved anesthetic, first used on injured soldiers in the 1970s. It has also been administered to individuals who have attempted suicide as it has calming effects on those with suicidal thoughts, suicidal ideation, and depression. Because of its antidepressant effect, ketamine is heading toward becoming the first line of treatment for those with treatment-resistant depression. 
Some common names that individuals may refer to ketamine include:
Kit kat

Special k

Vitamin k

Blind
The Controlled Drugs and Substance Act classifies ketamine as a schedule 1 drug. This means that the possession and sale of ketamine are illegal. However, the authorized use of ketamine for medical purposes is legal. Ketamine can be administered for different conditions, such as regional pain syndrome, nerve pain, and complex regional pain syndrome. Our ketamine therapy clinic can address various neuropathic pain conditions through an in-depth patient assessment. 
Ketamine is designed for those with severe depression, major depressive disorder (MDD), and treatment-resistant depression. Some of the other disorders it can help include:
Anxiety disorder

Personality disorder

Therapy for depression

Anxiety and chronic depression

Suicidal ideations

Stress disorder

Bipolar disorder

Major depression

Post-traumatic stress disorder PTSD
Ketamine is a fast-acting solution to severe mental illness that can reduce symptoms while healing the individual mentally. Psychotherapy and traditional antidepressants don't always work for some, leaving these individuals at a loss. Ketamine therapy, however, is a revolutionary new treatment modality that can be life-changing for these individuals. With depression being the third leading cause of disability worldwide, it's essential to have a fast variety of solutions and treatments available. 
For a list of the strongest to weakest opioids, please see our blog below:
How Ketamine Works in the Brain
Unlike traditional treatments for depression that only address the symptoms, ketamine infusion therapy for depression works by repairing damaged neurotransmitters in the brain, repairing and healing them. This is why patients only require one month of ketamine therapy; the results are long-lasting, and there is no need for medication-assisted treatment (MAT) once it is complete. 
Patients participating in our ketamine therapy program will be monitored throughout the entire process to ensure treatment efficacy. Every individual responds differently to treatment and therapy, which is why it is so important that patients are treated on an individualized basis. When patients are monitored throughout the entire treatment process, clinicians can ensure that patients are administered the proper dosage. 
Where to Get Ketamine Treatment for Depression in Florida
If you are struggling with depression, schedule your consultation today with our intake team. Therapy can allow patients to regain control of themselves and their minds, leading to healthier, more fulfilled, and more productive lives. Our team will locate an infusion center close to home so receiving the treatment is simple and convenient. The effects of ketamine will take place almost immediately, so patients must have a safe ride home once the therapy is complete. Our team can arrange a safe ride to and from the individual's home as part of our all-inclusive offerings.
WhiteSands Alcohol and Dru Rehab is the gold standard of treatment centers and has a high success rate for long-term patients who sustain sobriety. Contact the team today if you are in Central or South Florida or surrounding cities. We have locations throughout Florida and can find a ketamine infusion therapy center closest to you. Depression treatment can help you lead the life you've intended for yourself. Whether in Tampa, FL, Panama City, Tallahassee, FL, or Fort Myers, we can find an IV ketamine infusion clinic near you. Call now because there is no better time to seek help. 
If you or a loved one needs help with abuse and/or treatment, please call the WhiteSands Treatment at (877) 855-3470. Our addiction specialists can assess your recovery needs and help you get the addiction treatment that provides the best chance for your long-term recovery.