Understanding Addiction
Addiction is a chronic disease that changes the reward centers in the brain. When looking at drug addiction, there are certain signs someone might struggle with a substance use disorder. The signs that point to drug addiction are: 
Loss of energy or motivation

Spending a ton of money on the substance of choice

Poor performance, being late and being absent a lot from work or school

Performing risky behaviors while under the influence

Developing a high tolerance to feeling the euphoric effects of the substances

Lying about being sober and how much they have consumed in general

Feeling withdrawal symptoms when there's an inability to get their next fix of the drug
Here are the signs that connect to drug addiction: 
Drowsiness, depression, constipation, constricted pupils, and confusion

Running out of prescriptions early and getting multiple prescriptions from different doctors

Taking more than you should of the drug to alleviate pain

Having withdrawal symptoms, which are similar to flu symptoms
The Role of Professional Rehab in Addiction Recovery in Orlando
Professional rehab is the safest and best option for people going through addiction that are in desperate need of help. Getting addiction recovery in Orlando is possible at WhiteSands Treatment, an Orlando luxury rehab. WhiteSands Treatment offers outpatient services as it's an opioid treatment center in Orlando. WhiteSands Treatment in Orlando approaches addiction treatment by tailoring it toward the person going through treatment. We understand how recovery can be challenging but can be even more so if the treatment isn't the right plan of action for you. That's why we do an in-depth intake assessment to give the best treatment options to you, not for what has worked in the past for other people. Being in a more controlled professional space like WhiteSands Treatment can give patients and their loved ones peace of mind that they will be taken care of with kindness and compassion. Our medical professionals at the rehab make sure to continue implementing the environment of the facility to be a judge-free zone and a safe place for people going through addiction. 
Recognizing the Need for Rehab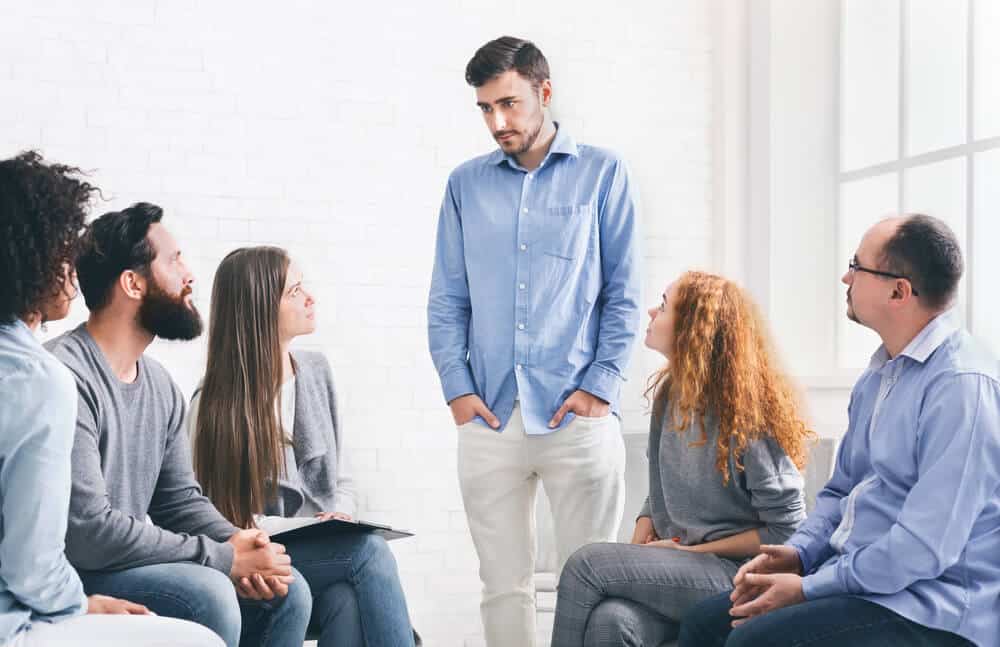 When trying to help a loved one recognize their addiction problem, the best action plan is to stage an intervention with them and invite all their loved ones to help. WhiteSands Treatment can help with intervention strategies for addiction and be there as an Orlando recovery center for patients. The first step in staging an intervention is being sure you gather all the necessary information. Figure out the logistics of how long the person has had a substance abuse problem, what they are addicted to, and what treatment is out there to help them. The second step is that everyone part of the intervention needs to agree on a plan of what the person with the substance use disorder needs for treatment. The third step of the intervention is having everyone figure out what they're going to say to the person in need of help. They should also prepare possible responses that can happen if the person addicted asks certain questions. Other than the person with the addiction problem and loved ones at the intervention, there should also be a medical professional or a therapist. It's important to have someone who has professional experience with interventions there since they can mediate the conversation and make sure no one gets out of hand. 
 Navigating Addiction Treatment Options in Orlando
Some addiction treatments that can be used to help with drug addiction in rehab are medical detox, intensive outpatient treatment, dual diagnosis, family therapy, sober living programs and alternative treatments. These treatments are offered at WhiteSands Treatment in Orlando. Since the Orlando location isn't inpatient, patients have to receive their treatment in an outpatient context. Outpatient treatment is perfect for people who already have busy lives and can't afford inpatient treatment even if their insurance covers some of it. Outpatient treatment is also a good backup plan for people who work, go to school, or have to take care of their children. This type of flexibility allows people seeking treatment to work around their schedule and get the care needed to recover from drug addiction. 
Supporting Your Loved One During and Post Rehab
Drug addiction can take over someone's life and alter their own reality. It's important during the process of getting treatment that loved ones and friends support the patient. A strong support system can help decrease the chance of them having a relapse or giving up on treatment early on. Once treatment is done and the person with the substance use disorder is in full recovery from drugs, there are a ton of resources post-rehab to help them continue on their sober journey. WhiteSands Treatment has many resources for their former patients post-rehab. WhiteSands Treatment continues to give former patients support even after their treatment is done. 
The programs post-rehab WhiteSands Treatment provides are their alumni program and sober living community. The alumni program at WhiteSands Treatment gives past patients the feeling of connecting with others that went through treatments in rehab and had similar struggles with addiction. Not only are there ongoing meetings but there is also a whole community to attend events with and outings. It's run by experienced counselors with guidance and helps promote wellness. The sober living community WhiteSands Treatment can provide to patients going through an intermediate process of going through treatment and about to return back to their past life. It's also a good resource to take advantage of right after receiving all necessary treatment to achieve recovery. A sober living community has others you live with who are going through treatment or are in addiction recovery. It's a safe place for people to enjoy living in sobriety without any triggers of drugs or alcohol in the house. It can give people hope that being sober isn't as bad when surrounded by a strong support system who is also sober. 
WhiteSands Treatment Center – Your Partner in Recovery
WhiteSands Treatment in Orlando always has their patient's best interests in mind. We believe that a holistic approach to treating drug addiction is the best well-rounded way to treat patients from all different walks of life. WhiteSands Treatment offers other alternative treatment options, which include art therapy, biofeedback, chiropractic care, and exercise therapy. For patients who want the traditional medical treatment options for rehab can have treatment plans centered around medically assisted treatment programs, medical detox, intensive outpatient drug rehab, and dual diagnosis treatment. If you or you're loved one is suffering from drug addiction, call WhiteSands Treatment at 877-640-7820 to hear more about the treatment options offered in Orlando. 
Frequently Questions About Drug Rehab Orlando
What are the first steps to take when guiding a loved one into drug rehab?
The first step to guiding a loved one into drug rehab is calmly talking it out with them. If they continue to deny they have a problem with drugs, the second step is to stage an intervention. When planning the intervention, you need to find all the people who will be part of the intervention as well as get a therapist or a professional to help mediate the intervention. 
How can I convince my loved one to attend drug rehab in Orlando?
It's important to not force anyone to go to drug rehab. Treatment and staying sober won't happen if the person forced to go to rehab isn't fully committed and doesn't want to put the work in. The best way to convince your loved one is to try and show them how their drug addiction is wrecking their relationship with you and others. Another way is to stage an intervention and get a therapist to mediate and speak to them calmly about enrolling in drug rehab. 
What options for drug rehab are available in Orlando?
WhiteSands Treatment is a top drug rehab in Orlando. It's an outpatient facility that caters to people in the Orlando area and people who work or go to school. It's easy to schedule treatment around your already busy schedule. 
How do I approach the conversation about drug rehab with my loved one?
The first way to consider this is just calmly talking to your loved one about seeking drug rehab. Remember to not come off as judgemental and shaming them. You can also try an intervention if your loved one is less likely to be civil about having a conversation about drug rehab and is in denial. If all else fails, give them some resources for drug rehab and approach getting help. SAMHSA has a helpline that's completely confidential that you should provide to them if they won't talk to you about their addiction. 
How long does the admission process for drug rehab take?
The admission process for drug rehab varies for each person. It depends on how forthcoming someone is with information and how in-depth they get into revealing the history of their addiction. 
What can I expect from WhiteSands' drug rehab program in Orlando?
WhiteSands Treatment gives each patient the necessary care and time for treatment. The drug rehab program in Orlando is completely outpatient, so you can expect to be able to do anything you've done before in your daily life with the exception of consuming drugs. You can expect to schedule your treatment appointments around your work or school schedule and still be able to go home and spend time with your family and loved ones. 
How can I support my loved one during their time in drug rehab?
The best way to support a loved one during drug rehab treatment is to continue to give them support through encouragement and possibly attend their treatment when you can. Also, family therapy or group therapy can be helpful during their drug rehab to have a professional in the room to mediate conversation in a supportive manner. 
What happens if my loved one refuses to go to drug rehab?
American Addiction Centers claims it's important to first offer your support for them going to drug rehab and avoid condescending tones of your voice. If the patient still refuses after talking to them calmly, consider threatening something they rely on a lot or need. For example, this could be taking away their car or making them move out if they don't get treatment. You must follow through with this threat or it won't resonate with them. An intervention is also another way of showing your support to them and having a professional who has mediated interventions before helps them see why they need to go to drug rehab. 
How do I deal with a loved one's denial about their substance abuse?
It's hard to admit you have a problem with drugs, so if your loved one keeps denying they have a drug addiction continue to give them support to get treatment. It's also important to back up your accusations with facts from credible sites and maybe someone they trust as a medical professional like their own doctor or therapist. Unfortunately, there's no magical solution to having them change their mind and accepting they have a problem. 
What resources are available for family members of individuals in drug rehab?
There are tons of resources available for family members of people in drug rehab. When a loved one is enrolled in drug rehab, part of the treatment at WhiteSands Treatment is family therapy. There are also a ton of resources online that can give support and point family members in the right direction of where to get their questions answered. A few of these types of websites are the National Institute on Drug Abuse, Substance Abuse ad Mental Health Services Administration, and the American Society of Addiction Medicine
If you or a loved one needs help with abuse and/or treatment, please call the WhiteSands Treatment at (877) 855-3470. Our addiction specialists can assess your recovery needs and help you get the addiction treatment that provides the best chance for your long-term recovery.