Addiction Recovery with Cigna Insurance: Comprehensive Treatment Options
addiction and recovery • insuranceAddiction Recovery with Cigna Insurance: Comprehensive Treatment Options
What Does Cigna Insurance Cover?
WhiteSands features offer a full continuum of care for clients who have substance use disorders like opioid addiction or alcohol addiction. More than 22 million people are living with a substance addiction today. However, just a portion of these individuals will sign up for treatment. At WhiteSands, we understand that one of the barriers to treatment is cost. That's why we offer affordable treatment options and accept a wide array of health insurance plans, including Cigna insurance coverage. Let us help you get the treatment you need to manage your alcohol or drug addiction successfully. 
If you're searching for 'Cigna Insurance accepted near me,' you can rely on WhiteSands. We believe in making addiction treatment accessible and affordable. If your insurance provider is Cigna, you can get coverage for your inpatient or outpatient addiction treatment. Since the passage of the Affordable Care Act (ACA), mental and behavioral healthcare have more coverage than ever. If you are concerned about medical insurance coverage or have Cigna and have questions, you can rely on WhiteSands for our support. 
Cigna Insurance provides some coverage for addiction treatment, but coverage varies depending on the plan a person has. Medical insurance plans help people access quality addiction treatment. The treatment process often takes a month or longer. It takes time for people to learn how to manage their condition. If you have Cigna Insurance, it will likely cover some or all of your substance abuse treatment. 
Cigna offers various levels of coverage for its members. In fact, many insurance providers do today since the passage of the Affordable Care Act (ACA). Any insurance carrier that wants to sell insurance on the exchanges will provide a minimum level of coverage for substance abuse treatment and mental health disorders as mandated by the ACA. Cigna offers various coverage options. If you have a plan with Cigna, those options may already be known to you, or you can contact the company for more information about the different plans that are available, their coverage levels, and costs.
Understanding Addiction and the Importance of Treatment
A substance use disorder is a complex disease. It's also a chronic condition. Alcohol or drug addiction changes the chemistry of the brain, leaving the individual vulnerable to intense compulsions to use the substance in question. Powerful cravings drive the addiction, making it feel impossible to stop drinking or using drugs. Individuals who are addicted to powerful drugs and alcohol often continue to abuse the substance despite negative consequences like health problems and the loss of relationships and jobs. 
For many, the only way to manage an addiction successfully is to seek treatment at a high-quality addiction treatment center like WhiteSands. We help clients understand their addiction and what to do to manage it and prevent relapse. Getting into treatment not only benefits the individual in question but also benefits the person's family and loved ones. Substance abuse takes a toll on families. Treatment saves lives, but it also supports family members who are impacted by their loved one's addiction.
Comprehensive Treatment Options for Lasting Recovery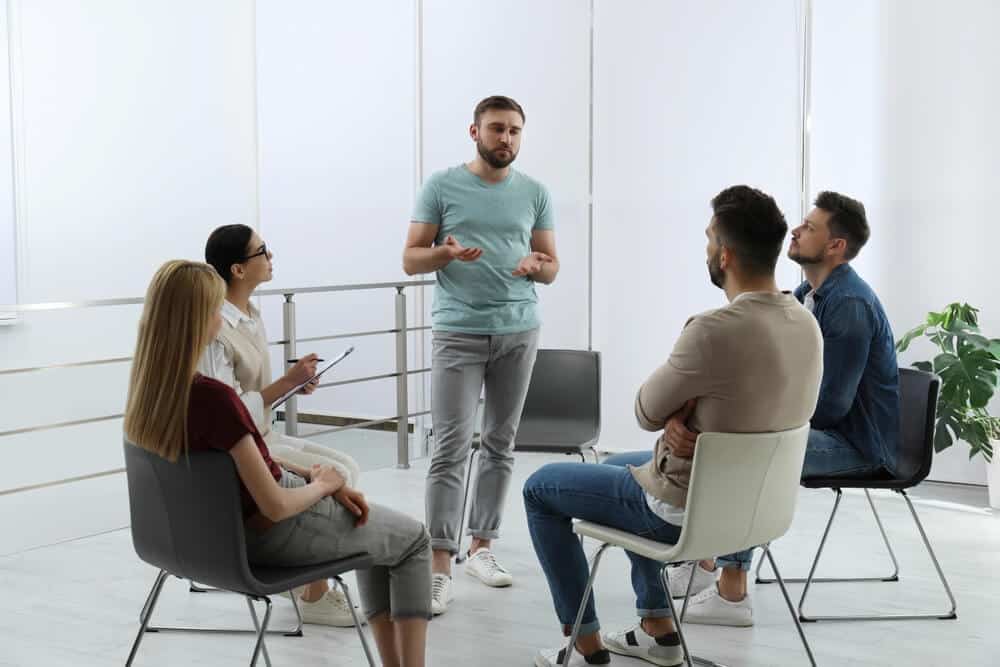 People who visit WhiteSands for addiction treatment will have many different options regarding their recovery journey. Our rehab center offers a variety of treatment options. We provide a full continuum of care. That means that we can meet people to help them no matter where they are in the recovery process. Some people need intensive help with around-the-clock support. Others only need to visit for a few hours each week as part of their maintenance plan while they're rebuilding their life.
The following are the treatment plan options we offer:
Personalized Assessment and Treatment Planning
WhiteSands believes strongly in taking an individualized approach to addiction treatment. We begin treatment with a personalized assessment. Our addiction specialists evaluate each client carefully to determine their unique needs. This allows us to provide an individualized treatment plan that addresses each person's needs regarding treatment and recovery. 
The evaluation is an important step because many clients require services such as dual diagnosis treatment. About a third of people with a substance addiction also have a mental health condition such as depression or anxiety. With addiction treatment that's personalized for their needs, clients can get the individualized support they need to manage their addiction successfully.
Medically Supervised Detoxification
WhiteSands offers medical detox, a safe process by which a person becomes weaned of the substance they're addicted to. Medical detox targets the physical dependency associated with a drug or alcohol use disorder. It doesn't cure addiction, but it does sever that powerful physical reliance on the substance in question. When their dependency is overcome, clients can move on to the next phase of treatment. During detox, clients generally do experience withdrawal symptoms, but our clinicians offer treatments to eliminate or reduce the uncomfortable symptoms of withdrawal so that clients can rest and begin the healing process.
Residential Treatment Programs
WhiteSands features top-rated residential treatment programs that provide a high degree of support for addiction recovery. Often, clients begin with inpatient treatment because it provides the most robust level of support that includes 24-hour monitoring. During the early days of recovery, many clients are at their most vulnerable. Residential treatment helps clients grow in stability. As their support needs change, clients often transition to a less intensive program such as outpatient treatment. Not all clients enroll in residential treatment. However, if you need a high level of support, inpatient programming might be the ideal option for you. 
Outpatient Programs for Flexibility and Continuity
WhiteSands offer outpatient treatment programs that are ideal for clients who want more treatment flexibility. Outpatient addiction treatment is ideal for clients who wish to keep working, go to school, or provide care for their families. People also transition from a highly intensive inpatient program to an outpatient program as their support needs change.
Outpatient addiction treatment includes individual and group therapy sessions. With treatment, clients can learn to manage their triggers to use drugs or alcohol so that they do not relapse. They also get support to make the lifestyle changes needed to support lasting recovery. 
Holistic Therapies and Aftercare Support
In addition to our evidence-based therapies, WhiteSands offers Holistic treatments that support whole-person wellness. Holistic therapies like yoga help clients develop strategies for managing stress and keeping relapse at bay. Our rehab also offers aftercare programming. Aftercare allows clients to get continued support as they transition back to their everyday lives. This support helps them to rebuild their lives and prevent relapse, which is often a serious threat during the first year of recovery.
Why Choose WhiteSands for Addiction Recovery?
WhiteSands has an outstanding reputation when it comes to top-quality addiction treatment. We understand the challenges our clients face at every level, and we've developed support programs that can help each person forge a path out of addiction and toward a healthier and more rewarding life. Learn why so many people choose WhiteSands to begin their addiction recovery journey. 
Experience and Expertise
WhiteSands is known for its experienced clinicians with the training, credentials, and expertise to help people with a substance use disorder. We can also provide dual diagnosis treatment as well as other therapeutic approaches that support lasting addiction recovery. When searching for an addiction treatment center, choose a rehab that has a proven level of expertise and experience; choose WhiteSands.
Individualized Approach
Some rehab facilities take a cookie-cutter approach to addiction treatment. But a one-size-fits-all plan isn't quality treatment. WhiteSands takes an individualized approach to the addiction recovery process. Each person deserves treatment tailored to their condition and specific needs.
Compassionate and Supportive Environment
At WhiteSands, we feature a highly positive and respectful environment. We treat every client with the respect and dignity they deserve. compassion is at the heart of our services. Our clinicians care about helping each client achieve the recovery they crave.
Evidence-Based Treatment Methods
WhiteSands relies on evidence-based treatments to help clients manage addiction. These treatments have the support of the medical community. They've been proven, through rigorous clinical studies, to be effective and safe for the treatment of substance use disorders. We also offer alternative and holistic therapies that complement our medically sanctioned treatments such as cognitive behavioral therapy because they also enhance aspects of recovery.
Collaborative Approach
WhiteSands takes a collaborative approach to addiction recovery. Our clinicians work together to help each client achieve their recovery milestones. Our programs include peer group therapy sessions that also offer clients a high degree of support. WhiteSands features numerous locations where clients can go to get the help they need to overcome addiction.
Frequently Asked Questions on Cigna Insurance Coverage
Does Cigna insurance cover addiction treatment?
Cigna Insurance provides some level of coverage for inpatient addiction treatment and outpatient treatment. Coverage varies depending on the person's plan.
What types of addiction recovery services are available with Cigna insurance?
WhiteSands offer a wide range of addiction treatment plans and treatments. Cigna Insurance does cover many of the services our rehab facility offers. To find out which treatments and plans are covered, contact WhiteSands so our insurance specialists can answer all of your questions.
How does WhiteSands create personalized treatment plans?
WhiteSands carefully evaluates each client during the enrollment process–and throughout their recovery process. This evaluation allows clinicians to recommend the ideal course of treatment. For instance, some clients may need dual diagnosis treatment or medication-assisted treatment; some clients will benefit from other types of therapy.
What is the difference between residential treatment and outpatient programs?
Residential treatment involves clients residing at our treatment center. During inpatient treatment, clients receive our highest degree of support. We provide them with a safe setting and round-the-clock support so they can get their recovery off the ground as they grow in stability and the ability to manage their addiction.
What are the holistic therapies offered at WhiteSands?
WhiteSands offers holistic treatment that supports the recovery process. Holistic offerings like restorative yoga and exercise support whole-person wellness. Together, our treatments support mind, body, and spiritual health.
If you or a loved one needs help with abuse and/or treatment, please call the WhiteSands Treatment at (877) 855-3470. Our addiction specialists can assess your recovery needs and help you get the addiction treatment that provides the best chance for your long-term recovery.