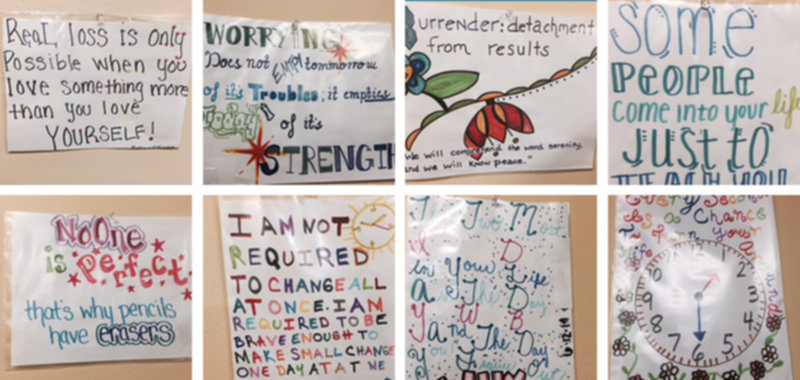 Addiction can be painful and traumatic, and not all addicts feel comfortable or safe talking about their struggles. Art therapy is an important treatment option for recovering addicts who have trouble expressing their emotions during one-on-one therapy sessions or during group counseling. Through art therapy, patients learn how to explore their ideas and emotions by partaking in different mediums such as painting, dance, sculpting, music, acting, and poetry.
Art therapy also provides a sense of community and allows patients to connect with one another and share their thoughts and experiences in a safe, non-judgmental environment. It helps them express their creativity, while they work to evoke their difficult emotions, worries, and fears. The calming effect produced by art therapy has shown to decrease patients' levels of stress and anxiety.
How It Helps
This alternative from of treatment allows recovering addicts to find a new way to communicate, providing them with a chance to reflect on their past behaviors. It can help many who struggle connecting to find an outlet and make significant breakthroughs while in recovery. By creating something tangible that can be analyzed and appreciated, patients can process the emotional and mental struggle of addiction.
It helps promote self-esteem and allows them to have pride in their work and their progress. Healing leads to changes in the level of trust that each patient has with the treatment center staff, with fellow patients and with themselves. It has also been shown to aid in the improvement of mood, change in perception and behavior, and to manage the symptoms caused by withdrawal.
The Goal
Art therapy provides recovering addicts, as well as those suffering from other mental and emotional disorders, with a creative outlet and means of expression. At WhiteSands Treatment Center, our goal is to enhance the rehabilitation process by providing each patient with his or her own personalized treatment plan that meets their individual needs. Regardless of age, skill level or history, this form of therapy can assist in relapse prevention and may become a new hobby or activity that patients can take with them when they leave our facility.