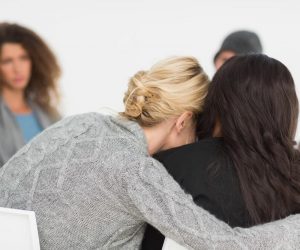 Find NA Meetings in Orlando, FL
One of your most effective tools in recovery is having a good support system. Finding people who share your sobriety goals will be a good asset in the long run. Like many other chronic diseases, there is no cure for addiction, but it can be managed. Many people have contributed their continued sobriety to regularly attending Alcoholics Anonymous (AA) or Narcotics Anonymous (NA) meetings. Here, we will discuss Narcotics Anonymous, what it is, what to expect and how it can help you.
NA is a non-profit organization built from recovering addicts who help one another stay clean. It offers a safe space to share your own struggles where members do not have to give their names (hence the anonymous part) and to spread the message that recovery is possible. NA has no fees or dues; the only requirement is the desire to stop using drugs. It is open to people of all ages, races, religions, sexual orientations, and any recovery stage.
There are no classes or counseling, just a place where people can share their stories, receive encouragement, and hear about ways to manage their recovery from others. NA is known for having a 12-step program, and even though the program came from a spiritual, Christian inspiration, they do not have any religious affiliation. Attending NA meetings is a great way to continue rehab while living your everyday life.
Because every group is autonomous, each can be quite different. You may go to many separate meetings until you find the right group of people and format that works best for you. Some meetings are closed, allowing only recovering addicts, and others are open, who welcome non-addicts who wish to support a loved one or gain an understanding of addiction.
Meetings are usually either discussion, allowing members to take turns sharing, or speaker meetings, allowing one or more members to share for an extended period. Newcomers and visitors are asked to introduce themselves by their first names. You are not required to share much more about yourself and can listen to others. Sharing is focused on how addiction and recovery have affected a person.
With over 61,000 meetings held every week worldwide, you can find a session that fits your needs and lifestyle very quickly. Alcohol & drug addiction is a disease of loneliness and meetings help conquer that. You will find people who you can easily talk to about your struggles and achievement.
NA Meetings in Orlando, FL
Rainbow Recovery at The Center
This group meets from 7 to 8 pm on Wednesday at The Center. The Center is a wonderful organization whose aim is to empower the LGBT+ community and its allies through education, information, advocacy, and support. This is an NA group for those of the LGBT+ community and is an open discussion group. There is no smoking in this group.
946 N Mills Ave, Orlando, FL 32803
A Train to Somewhere at First Baptist Church of Taft
A Train to Somewhere is a candlelight meeting with an open literature study. It tends to be speaker only and is held on Thursday at 7 pm.
9284 2nd Ave, Orlando, FL 32824
Eatonville Group at Episcopal Church of St. John the Baptist
This is a discussion meeting that is closed to non-addicts. They meet Fridays at 7:30 pm.
1000 Bethune Dr, Orlando, FL 32805
These are just a few examples of NA meetings in the Orlando Area. Many groups are meeting virtually on Zoom because of COVID-19, which can make it more easily accessible to get to a meeting, but you do lose out on some of the connections you make with in-person meetings. The schedule also mentions some outdoor meetings that could be a good idea if you take extra precautions.
Remember, all NA meetings are unique, so try as many different groups as possible to find which fits with you best. Try not to get discouraged or give up on NA meetings entirely because the first few ones are not your cup of tea. They can be so beneficial to your sobriety and add the support you need in the long run.
Not only will attending meetings help you be accountable to yourself, but it will also help you be responsible to others. Knowing that other people are genuinely rooting for your success can sometimes be why you did not relapse.
Honesty is one of the number one rules of NA. You can build genuine connections with other people because they will genuinely get to know you, and you get to know them honestly. You can be safely vulnerable and not feel the need to mask your struggles to make others feel more comfortable.
Benefits of NA in Staying Sober
There are many benefits of regularly attending NA meetings. During your time in rehab, you are in a controlled environment where your sole purpose is to get clean, but once you are out in the real world, you are dealing with your addiction and everyday life stressors. Some of these stressors may have driven your addiction first and having a support group can help you navigate it all much better. Finding your right NA group can not only give you support but can be healing and therapeutic as well. Other benefits include:
A sense of belonging is a human need, just like food and shelter. It is essential to see the value in life and coping with painful emotions. Having a group of people who have had similar experiences and understand your struggles can provide that sense of belonging.
Hearing others talk about how they navigated a road bump in recovery can significantly help you go through it as well. You can be reminded of the consequences of relapsing, and they can help you navigate cravings and urges when they do surface.
Your experiences and advice can greatly help others in the same way, which is a tremendous benefit to your sobriety as well. Helping others feels good, can give you a sense of purpose, boost your self-esteem, and even help you live longer.
Retelling your experiences and struggles to others who do not personally know what addiction feels like can be a little scary, and you may not want to share much with them. But other NA members have seen and heard it all, so you will feel you can share as much detail as you would like without feeling judged. If you start having cravings, you can freely share those thoughts with other members without worrying about how they react.
People in NA usually know where to find the right resources. More experienced members can help you with tricks they have picked up over the years, such as a specific routine they follow when they start having cravings.
The most significant benefit you will get from attending NA meetings is collective strength. Just like the idea with a herd of antelopes, the ones who are alone on the outside will be picked off by the lions easily, but the ones who stick together in the center help one another survive. Being in a community of others can help you stay stronger, longer. You will feel you are not going at this alone.
Belonging to a group of people in various stages, you will find much more experienced members. Some members can be a mentor to you and help you navigate your recovery much more easily.

Orlando Articles:
Farmers Markets Orlando
Kayaking in Orlando
Healthy Restaurants
Community Colleges
If you or a loved one needs help with abuse and/or treatment, please call the WhiteSands Treatment at (877) 855-3470. Our addiction specialists can assess your recovery needs and help you get the addiction treatment that provides the best chance for your long-term recovery.