At WhiteSands Treatment, we deeply appreciate the sacrifices our veterans have made. Their bravery and service are unparalleled, and yet, the transition back to civilian life can present unexpected hurdles, particularly in mental health and substance use. It's a silent battle many veterans face upon returning home, and one that demands just as much courage and determination as their service. Our Veterans Crisis Stabilization and Recovery Program in Florida offers a haven for those who have served our country, providing them with the best emergent care and crisis stabilization services tailored to their unique experiences. We are steadfast in our commitment to helping veterans stabilize and overcome these challenges and move forward to a stable, fulfilling future.
The WhiteSands Veterans Crisis Stabilization and Recovery Program stands as a testament to our unwavering commitment to the well-being of those who have worn the uniform of our armed forces. Recognizing the unique and profound challenges that veterans may encounter upon returning to civilian life, this program has been carefully developed to address the multifaceted nature of crises that can arise. Because of the Veterans Comprehensive Prevention, Access to Care, and Treatment (COMPACT) Act, veterans can go straight to a top facility like WhiteSands for emergency help at no cost to them, whether or not they're enrolled in VA care. That means WhiteSands can offer the emergent help and crisis stabilization that veterans need, when they need it, right here in Florida.
Honoring Veterans Service with Specialized Care
To truly honor our veterans, it's crucial to translate words of appreciation into actionable, compassionate, emergent care. Veterans often bear the invisible wounds of service, with many experiencing complex mental health conditions such as PTSD, depression, and substance use disorders at higher rates than the general population. Specialized emergent care and crisis stabilization for veterans isn't just a courtesy — it's a necessity. At WhiteSands, we incorporate this understanding into every facet of our treatment programs, including emergent care and crisis stabilization, employing therapies and interventions that reflect the unique challenges faced by veterans. We ensure that our care is both comprehensive and individualized, offering a supportive environment where veterans can heal and regain their strength.
Understanding the Veterans Crisis Stabilization and Recovery Program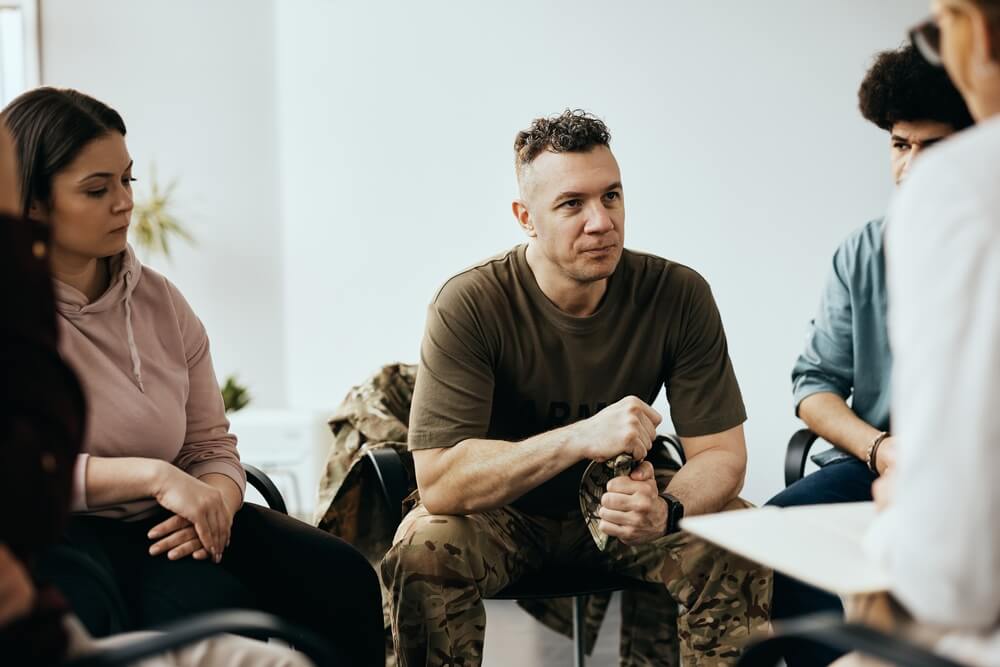 Veterans may face a myriad of stressors that contribute to mental health crises, from the reintegration into civilian life to the lingering effects of combat-related trauma. The Veterans Crisis Stabilization and Recovery Program is meticulously designed to act as a rapid response mechanism, providing immediate, expert intervention for those in acute distress. Our goal is to swiftly bring stability to veterans in crisis, creating a controlled environment where they can begin the healing process without delay and get the emergent care they need, tailored to their needs and circumstances.
Once stability is achieved, the program transitions into a comprehensive recovery phase. This phase is characterized by a thoughtful, personalized approach to treatment, considering each veteran's unique background, experiences, and needs. We understand that a crisis is often a signal indicating deeper underlying issues that require attention. Therefore, our program extends beyond stabilization, dedicating resources to uncover and address root causes, promoting long-term wellness, and resilience. Veterans are supported not only in overcoming immediate crises but are also empowered with skills and strategies for maintaining stability and preventing future crises.
Immediate Support in Crisis Stabilization
WhiteSands stands ready to provide immediate, lifesaving support to veterans in crisis. With a focus on rapid response and stabilization, our crisis intervention services are designed to address immediate mental health emergencies. We employ a team of mental health professionals who specialize in crisis management, ensuring that every veteran receives the compassionate, competent care they need during critical times. The immediate goal is to ensure the safety and stability of veterans in crisis, but beyond that, we strive to create a warm and trusting environment for ongoing recovery.
Dual Diagnosis Treatment for Holistic Recovery
Our holistic approach acknowledges that substance abuse can often be a symptom of or a coping mechanism for underlying psychological trauma, such as PTSD, depression, or anxiety. The intricate interplay between these conditions can create a complex clinical picture that requires specialized care. We utilize evidence-based therapies such as Cognitive Behavioral Therapy (CBT), Dialectical Behavior Therapy (DBT), and trauma-informed care alongside medication-assisted treatment (MAT) when necessary, to ensure the most comprehensive care possible. The aim of dual diagnosis treatment is not only to alleviate symptoms but also to equip veterans with the tools they need to manage their conditions effectively and regain control over their lives.
Our Treatment Centers and Programs in Florida
Moreover, WhiteSands recognizes the importance of a supportive environment in facilitating holistic recovery. We strive to create a therapeutic community that provides veterans with a sense of safety, belonging, and acceptance. This community becomes a platform for sharing experiences and offering mutual support, which is often a catalyst for significant breakthroughs in treatment.
Florida is home to several WhiteSands treatment facilities, each offering a sanctuary for recovery, with services meticulously tailored to the needs of veterans. Our centers are not just places for treatment; they are communities where veterans can find understanding, support, and hope.
Tampa Treatment Center Services
Our Tampa center in nearby Plant City is where innovation meets compassion. Veterans have access to a wide range of services, including medically assisted detox, designed to ease the discomfort of withdrawal, and residential treatment for those who need a structured and supportive environment to start their recovery journey. Here, therapy extends beyond traditional modalities, incorporating cutting-edge techniques to help veterans confront and overcome the challenges associated with substance use and mental health.
Fort Myers Treatment Center Services
Fort Myers is a hub of personalized care, providing veterans with an array of treatment options to fit their unique recovery needs. With programs like Partial Hospitalization Programs (PHP) and Intensive Outpatient Programs (IOP), veterans have the flexibility to engage in intensive treatment without full-time residency. This allows for a seamless integration of recovery efforts into daily life, empowering veterans to rebuild their lives with independence and resilience.
Hyde Park Treatment Center Services
At Hyde Park, the focus is on creating individualized recovery experiences for each veteran. Whether through residential programs that offer a peaceful retreat for healing or through PHP and IOP that provide structure and support, veterans are guided by a team of professionals dedicated to their recovery. Here, the treatment is not just about addressing symptoms but about fostering a holistic transformation that can sustain veterans throughout their lives.
Start Your Journey to Recovery Today
To the veterans who have served our country with honor: WhiteSands Treatment is here for you. Our Veterans Crisis Stabilization and Recovery Program is more than a safety net; it is a forward-looking, comprehensive approach designed to restore hope, dignity, and purpose to those who have served our nation. Your journey to recovery from a crisis is one we are honored to share with you, and we're known for our stabilization services that can help veterans facing a crisis. Get started today by calling us at 877-855-3470 or contacting us online.
Frequently Asked Questions About Veterans Recovery Programs
What services are included in the Veterans Crisis Stabilization and Recovery Program?
Our program offers comprehensive services tailored to veterans, including mental health crisis intervention, therapy for PTSD, addiction treatment for opioids and alcohol, and dual diagnosis treatment for co-occurring disorders.
Who is eligible for the Veterans Recovery Program at Whitesands?
All veterans suffering from a life-threatening mental health crisis, substance abuse, or both are eligible for our program. We provide care to those in acute crisis as well as those seeking long-term recovery support.
How does Whitesands address the unique challenges veterans face with mental health?
We have developed a specialized curriculum that focuses on the unique experiences of veterans. Our staff includes professionals trained in veteran-specific treatment modalities for issues such as PTSD and other service-related traumas.
Does Whitesands offer drug and alcohol detox services for veterans?
Yes, our Tampa Treatment Center offers medically assisted detox to help veterans safely withdraw from substances under medical supervision, ensuring the highest level of care and comfort.
Can family members be involved in the recovery process?
Family involvement is an essential part of recovery. We encourage family participation in the treatment process through family therapy sessions and educational programs.
What types of therapies are used in the veterans recovery program?
Therapies include evidence-based practices such as Cognitive Behavioral Therapy (CBT), Eye Movement Desensitization and Reprocessing (EMDR), individual and group counseling, and holistic therapies tailored to each veteran's needs.
Are the programs covered by VA benefits or other insurance?
Many of our services are covered under VA benefits and other insurance plans. We can assist veterans in understanding their benefits and navigating coverage options.
What support is available for veterans after completing the program?
We provide ongoing support through our aftercare programs, which include alumni groups, relapse prevention planning, and connections to community resources specifically for veterans.