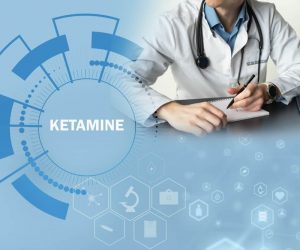 Ketamine Therapy for Mental Health Disorders
If you or a loved one struggles with a mental health disorder, ketamine therapy may be a good fit for you. Ketamine is an anesthetic drug used to sedate humans and animals. This drug is often misused illegally by partygoers seeking a psychedelic high. Although not approved by the FDA, ketamine is used as an "off-label" fast-acting treatment for those with serious mental health conditions.
When used correctly, ketamine is a psychedelic-assisted therapy model that produces a short-lived but intense subjective experience. During the experience, users go through the mystical or peak experience, followed by an afterglow and subsequent positive changes in affect, insight, motivation, cognition, and behavior. During the peak experience, users have rapid, profound, and sustained insight, mood, behavior, and consciousness changes.
There are several ways that ketamine therapy is administered: infusions, intramuscular, lozenge, or nasal. Studies show that infusion treatment is absorbed best by the body, but there are other options if infusions aren't an option for you. The technique of ketamine therapy depends on the clinic and the price.
Ketamine infusions: delivered intravenously in a clinical setting and last around 40 minutes
Intramuscular: a single shot of ketamine is injected into one of your larger muscles and lasts around 40 minutes. This technique is also administered by a medical professional in a clinical setting
Lozenge, or troche: taken orally, ketamine lozenges can be taken at home or in a clinical setting. They may be prescribed by a medical professional as the primary treatment or as a maintenance measure in between intramuscular, intravenous, or intranasal treatments
Nasal: there are two different types of ketamine nasal treatments. The first is Spravato, administered by a medical professional and patients must stay for two hours to be monitored for side effects. This is the only kind of ketamine therapy that's FDA-approved for depression. The other ketamine nasal option is a nose spray that can be found at a compounded pharmacy, where they mix the spray to your own needs, as determined by your doctor
If you or a loved one are struggling with addiction, call WhiteSands Alcohol and Drug Rehab today at (877) 640-7820 to learn how we can help.
When Is Ketamine Therapy Considered?
Ketamine therapy has been shown to help with several psychiatric conditions. However, it's most commonly used to treat those with treatment-resistant depression. This form of depression falls under major depressive disorder and occurs when other treatments don't impact the depression. Those diagnosed with treatment-resistant depression have tried more than two antidepressant treatments and neither has responded well with the patient. Other conditions that ketamine therapy could help with include:
Post-traumatic stress disorder (PTSD)
Chronic pain
Anxiety disorders
Bipolar disorder
Obsessive-compulsive disorder (OCD)
Suicidal ideation
These mental health conditions can be debilitating, but ketamine therapy can help make a positive difference. In fact, one study found that 88% of the participants given a ketamine infusion in the emergency room had their suicidal ideation go away within 90 minutes. Another study showed that 85% of respondents experienced a remission in their depressive symptoms after ketamine therapy.
Ketamine is thought to work by inducing the production of glutamate, a neurotransmitter in the brain. Research shows that abnormal levels of glutamate have been linked to depression, so the glutamate in the ketamine causes the brain to form new connections and repair damaged ones to increase its adaptability. These new neural pathways allow patients to create more positive thoughts and behaviors. Compared to traditional antidepressants, ketamine therapy works faster and lasts longer. With ketamine treatment, patients can experience a better mood and no suicidal ideations.
The 3 Steps of Ketamine Therapy
Consider seeking ketamine therapy if you or a loved one experiences treatment-resistant mental health conditions, such as depression or anxiety. You can begin ketamine treatment in three easy steps.
First, arrive at a clinical setting, such as WhiteSands Alcohol and Drug Rehab, wearing comfortable clothing and with an escort to drive you home. To get started, the medical team will review consent with you, ask and answer any questions, and have you complete a questionnaire describing how you're feeling. Then, the medical staff will do a quick heart, lung, and neurological exam to check vital signs. Depending on the ketamine treatment method, you'll receive an IV while reclining in a chair or lying in bed. Then, the ketamine infusion will slowly begin.
After the ketamine is added to the IV, it will infuse for over 40 to 45 minutes. During this time, you can relax, read, watch TV, take a nap, or do something else that's comfortable. Once the infusion is complete, the IV will be removed and you'll schedule your next treatment session. However, because ketamine may reduce reflexes and cause feelings of detachment, patients may not be able to drive home afterward, so expect to bring a driver to your appointment.
Now that you've had your first ketamine therapy infusion, you'll be contacted the next day to check in on how the ketamine affected you. At the beginning of each session, you'll be asked to complete a questionnaire to help track progress over time.
The cost of ketamine can vary depending on the type of ketamine therapy you sign up for. For example, since Spravato is FDA-approved, it's covered by most health insurance companies. However, other ketamine therapy treatments may not be covered by health insurance plans. In that case, many clinical offices, like WhiteSands Treatment, offer payment plans for those who qualify for ketamine infusion therapy.
Discover more on treating mental health with ketamine here:
Find Ketamine Therapy and a Better Future at WhiteSands
If you're ready to take control of your life from drug abuse, consider seeking ketamine therapy at WhiteSands Treatment in Florida. This rehab center offers customized treatment plans where patients can work through their disorders with help from a medical therapist who will help instill specific skills and techniques to manage a patient's mental illness.
WhiteSands Treatment offers ketamine therapy for patients who qualify and provides all forms of ketamine, including nasal, intravenous, intramuscular, and lozenge. In addition to ketamine therapy, WhiteSands Alcohol and Drug Rehab provides the highest quality of care, including individual or family therapy multiple times a week, individualized treatment plans, access to full-time skilled and credentialed staff, and involvement in a life skills program that helps increase success when patients leave treatment.
Additionally, WhiteSands Alcohol and Drug Rehab Tampa has amenities that will make you feel at home while you receive ketamine treatment. Here, you can enjoy a large, private room with satellite television and your own private bathroom. Plus, you can use your electronic devices, the athletic complex and boxing gym, swimming pool, basketball court, volleyball court, and more.
If you live in or near Florida, consider seeking ketamine therapy and mental health help from WhiteSands Alcohol and Drug Rehab. You don't have to go through life feeling down and depressed, even if you've been diagnosed with a treatment-resistant disorder. In that case, seek additional help and try alternative care methods, such as ketamine infusions. There's no wrong time to seek mental health treatment. Contact our addiction treatment facility to learn more about the ketamine treatment process and to start your treatment today.
If you or a loved one needs help with abuse and/or treatment, please call the WhiteSands Treatment at (877) 855-3470. Our addiction specialists can assess your recovery needs and help you get the addiction treatment that provides the best chance for your long-term recovery.