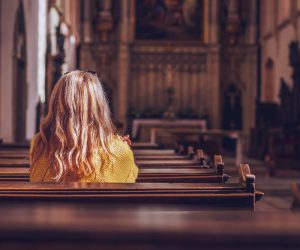 Churches & Centers of Worship For People in Recovery in Tampa, FL
There are dozens of churches and centers of worship for people in recovery in Tampa, Florida. Joining a house of worship after rehab can help people realize the benefits of spiritual worship. As prescribed by many aftercare support groups, Tapping into a higher power can help build a strong foundation for a person's long-term sobriety. No matter the religion, denomination, or spiritual discipline a person may choose, involvement in one of the many centers of worship in Tampa is sure to help an individual live their life after rehab. 
Benefits of Spiritual Worship
When you introduce spiritual worship into your life, you begin to open yourself up to things that do not have you at the center of your thoughts. Once you are not concentrating on things that solely center on yourself, you can begin to make new connections. You can improve areas of your life where you might need other people's assistance and look inside yourself to see what has brought you to where you are and where you want to go. One of the benefits of spiritual worship can be to have a renewed sense of community. Although prayer can often be a solitary activity, spiritual worship is almost always performed at least in part in a group setting. Spiritual worship can also help you build self-confidence that you can get past tough times in your life when you see others moving forward supported by their faith. 
Tapping Into A Higher Power
As part of support groups like Alcoholics Anonymous (AA), Narcotics Anonymous, Al-Anon, and Nar-Anon, participants are asked to realize that they are powerless over the effects of alcohol and drugs and that a higher power could help them take back control of their lives. Being open to this process is one of the first steps necessary in a 12-step program, whether you are a substance abuser or a loved one. Support groups are beneficial in helping people new to recovery begin tapping into a higher power by showing them others who have had success during their journey. 
How AA Groups Accept A Higher Power
AA and many other support groups are based on the 12 Steps. AA founders originated these steps to build on one another as they progress through the initial stages of their recovery. AA members begin the 12 Steps by understanding that there is a higher power and that it can guide them and support them in maintaining their abstinence from drugs and alcohol. Coming to this understanding is imperative to an AA member moving forward.
Christian, Jewish, Muslim & Other Places of Worship
Within Tampa's diverse community, many worship houses represent a wide variety of religions and denominations. Many welcome newcomers regardless of what faith they may have grown up in or practiced in the past to attend services. Finding someplace comfortable for you is what is essential. 
Here are some of the Christian, Jewish, Muslim, and other places of worship in the Tampa area:
Masjid Umar
Masjid Umar was built through support by the local community in 2010. Daily prayer timings are listed on the website. Masjid Umar is a community-oriented place of worship and offers congregational prayers, Islamic education, religious advice by qualified Imams, as well as many other community activities.
4801 E Busch Blvd, Tampa, FL 33617
Islamic Society of New Tampa (ISONET)
Located just to the northeast of Tampa proper, Daarus Salaam Mosque, which translates to "house of peace," was established as a place of worship for the New Tampa Muslims community. The mosque hosts communal prayers for the five daily prayers and the Friday sermons.
15830 Morris Bridge Rd, Thonotosassa, FL 33592
Congregation Schaarai Zedek
A synagogue is typically denoted as a house of worship, a place of study, or a house of gathering. Schaarai Zedek is a welcoming, inclusive synagogue that embodies all three of these concepts. Schaarai Zedek considers itself a place for Jewish families of all types to come together for events, including movie nights, community service, live music, and dancing. 
3303 W Swann Ave, Tampa, FL 33609
Congregation Rodeph Sholom
Congregation Rodeph Sholom has an active membership and is a welcoming and diverse community that learns, prays, and socializes together. They encourage anyone who has recently moved to the Tampa area or who is interested in Judaism to join them. The Congregation has been part of the Tampa community for over 100 years.
2713 Bayshore Blvd, Tampa, FL 33629
Young Israel of Tampa
Located near the University of South Florida, Young Israel of Tampa offers daily services for Shacharis Mincha and Maariv three times a day and classes, outreach, and observances for people of all ages. Young Israel is open to anyone, regardless of how observant they are, and encourages people new to the area to come and enjoy services with them.
13207 N 52nd St, Tampa, FL 33617
Congregation Beth Am
Beth Am provides opportunities for Reform Jewish worship, education, service, and fellowship. Beth Am's community has dedicated itself to providing whatever assistance their families require, both inside and outside the synagogue. Beth Am welcomes Jewish singles and single parents, interfaith families, Jews by choice, Jewish families from diverse backgrounds, and LGBTQ+ community members. 
2030 W Fletcher Ave, Tampa, FL 33612
Sacred Heart Catholic Church
Sacred Heart Catholic Church was constructed in 1905 in downtown Tampa and exhibits Romanesque Revival architecture. Sacred Heart welcomes people newly arrived to the area to join them for services. Sacred Heart has been an integral part of the downtown community for over 100 years and often collaborates with local businesses as part of their outreach.
509 N Florida Ave Tampa, FL 33602 
First Baptist Church of Tampa
The First Baptist's stated mission is to "Connect people to a thriving life in Christ." First Baptist offers multiple services on Sunday and takes advantage of technology so that people can take part online, too. Their downtown location is convenient to anyone in the Tampa area. The church offers educational classes, weekend retreats, and other events throughout the year.
302 W Kennedy Blvd, Tampa, FL 33606
Christ Fellowship Church Tampa
Located in American Legion Park, Christ Fellowship Church is non-denominational and is open and accepting to all who wish to worship with them. Their motto is, "This a place where you can grow spiritually, build friendships, and make a difference locally and globally." Christ Fellowship has a diverse congregation that reflects the wide variety of ethnic backgrounds present in the Tampa area.
300 E Sligh Ave, Tampa, FL 33604
First Reformed Church of Tampa
Located in the Town N' Country section of West Tampa, The First Reformed Church is an evangelical, faith-filled, and friendly congregation that is part of the Reformed Church in America and has sister congregations across Florida and the rest of the United States. Pastor Dave Hubbartt is a third-generation preacher who felt his calling while in college and has been leading the church since 2013.
8283 W Hillsborough Ave, Tampa, FL 33615
Without Walls International Church
Without Walls is a community of genuinely excited believers to get to know you, your family, and your friends. The church welcomes people of all ages to experience exciting worship gatherings held each Sunday filled with relevant teachings.
4414 N Grady Ave, Tampa, FL 33614
Kadampa Meditation Center Tampa Bay
Kadampa Meditation Center is a Buddhist temple close to the Ybor City Historic District of Tampa. Kadampa is a peaceful and inspiring environment in which people from all walks of life can learn about Buddhism and meditation. The center offers classes, retreats, and other events throughout the year. Their goal is to help people develop genuine inner peace and happiness in the modern world.
2005 N Lamar Ave, Tampa, FL 33602
Unity of Tampa
Unity of Tampa is a Christianity-based organization that teaches the practical application in everyday life of the principles of Truth taught and exemplified by Jesus Christ, as interpreted in the light of modern-day experience by Unity and the Unity Worldwide Ministries. Unity regards itself as a way of life that leads to health, prosperity, happiness, and peace of mind. Unity has five basic tenets taken from Christian denominations that encourage people to explore their own spiritualism.
3302 W Horatio St, Tampa, FL 33609
Hindu Sanatan Mandir Tampa
Sanatan Mandir is a Hindu temple located in central Tampa, west of Ybor City. They have daily, weekly and monthly prayers and services. The temple has a community hall that is available for family functions. 
311 E Palm Ave, Tampa, FL 33602
Contact WhiteSands for addiction treatment in Tampa Florida.
Tampa Articles:
Farmers Markets
Things To Do Outside in Tampa
Bike Paths
Fishing Destinations
Healthy Restaurants
Coffee Shops
AA Meetings Tampa
Al Anon Tampa
Museums
NA Meetings
Volunteer
Creative Outlets
If you or a loved one needs help with abuse and/or treatment, please call the WhiteSands Treatment at (877) 855-3470. Our addiction specialists can assess your recovery needs and help you get the addiction treatment that provides the best chance for your long-term recovery.