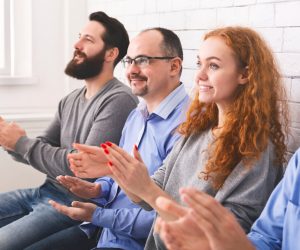 Find Nar-Anon Meetings in Fort Myers, FL
If your loved one is coming home after completing a comprehensive alcohol and drug rehab treatment program, it can sometimes be difficult for family members to adjust in several ways. Some family members may feel resentful that the recovering person has caused so much damage. Others may feel as though they need support and guidance from those who have been through the same challenges and are happy to provide advice.
Nar-Anon family group meetings are designed specifically to provide support for families and friends of compulsive drug users. Sessions are designed to let attendees share experiences so they can provide insight and assistance to others struggling to come to terms with how to cope with an addict in recovery.
It's common for many people to assume that only the person in recovery needs treatment and ongoing support. Yet, family members and friends are also affected by addictive behaviors. It's essential to recognize that those people around the person recovering from addiction also need support.
When a person recovering from addiction returns to regular life after rehab, family members can be confused about how they should act or what they should do to help.
Nar-Anon is a non-profit organization dedicated to offering support to those dealing with a loved one's addiction. After all, the actions and behaviors of the person struggling with addiction can affect the people around them, including family, friends, and colleagues.
It's common for some people to feel resentful that a recovering person gets the chance to start over and begin living a sober lifestyle after leaving rehab. In the meantime, friends and family members are left trying to deal with the fall-out of the recovering person's actions while they were still caught up in the grip of drug addiction.
Nar-Anon meetings provide family members with the chance to learn more about their roles in a recovering person's healthy recovery to know what they can say or do to give the right level of support needed. Attending regular meetings also helps you recognize that you're not alone and that support is available to you too.
Many people related to an addict struggle to understand what they can do to help the recovering person. Some blame themselves for their addictive behavior. Others may be struggling to mend damaged relationships and want to learn more about the nature of addiction and how it affects the actions of the person they love.
Dealing with someone in the grip of addiction can damage relationships and cause angst among other family members. Some people within the family unit may give up on the recovering person, believing they've caused too much harm with their addictive behavior.
Attending Nar-Anon meetings can help people affected by a loved one's addiction understand the challenges the recovering person is going through. They also learn more about the importance of family and friends providing proactive levels of support that can strengthen family bonds and make it easier for everyone to manage through the recovery process.
Nar-Anon Meetings in Fort Myers
It should be relatively easy to find Nar-Anon meetings in Fort Myers held at times that suit your schedule. Many organizations have meetings at various times throughout the day and evening, so support is available when you need it most.
Due to the coronavirus, many organizations also offer virtual meetings via Zoom or other online meeting alternatives. Some may also provide teleconference meetings, which allow you to access the support you need from the comfort of your own home.
The best part about registering for virtual meetings or online support groups is that you aren't limited to speaking to people in the local Fort Myers area. Online groups allow you to attend meetings with people in any part of the country at any time that suits your schedule and your need for ongoing support.
During online meetings, you'll have the opportunity to meet various other people who have been affected by a loved one's addictive behaviors in some way. You'll also begin to realize that there are people all over the country that are dealing with similar challenges to your own and looking for similar levels of support as you are.
While many Nar-Anon meetings have moved to virtual conferences or online sessions, some may hold in-person meetings from time to time. Below are some nearby Nar-Anon meetings in Fort Myers you may find helpful as sources of ongoing support:
Grace Church United Methodist, Shores Campus
Grace Church provides several recovery ministries and hosts various support groups for people in recovery from drug or alcohol abuse. They also proudly host support groups designed to assist family members of people affected by substance abuse issues. Childcare services are available if you have children who require care while you're attending meetings. They aim to help people recover and heal in a supportive environment.
14036 Matanzas Dr, Fort Myers, FL 33905
Freedom Clubhouse
The Freedom Clubhouse provides various meetings designed to provide ongoing support for people in recovery from drug addiction. They also host meetings specifically intended to support family members of affected people in recovery. The casual group meeting atmosphere makes it easy to feel accepted and comfortable from the moment you arrive. Everyone has the opportunity to remain anonymous so you can relate to tales of your struggles without feeling judged. Coffee is also available at each meeting.
6313 Corporate Ct #140, Fort Myers, FL 33919
Benefits of Nar-Anon Meetings for Families of Addicts
Most people assume only the person caught in the grip of drug addiction needs treatment and therapy. However, they underestimate entirely how severely family members and friends can also be affected by the addicted person's struggles.
Deciding to attend Nar-Anon meetings allows you to learn from other people who have also been affected by a loved one's struggles with drug addiction. It can be eye-opening to realize that some families have had just as many difficulties – if not more – as you have throughout their dealings with addictive behaviors.
You'll also have the opportunity to share stories of things that may have affected your life and actions you've tried to do to assist the recovering person. While you might have always acted in the best interests of the person in recovery, there are times where your efforts might have been ignored or unhelpful. Meeting other people in Nar-Anon can be enormously helpful for understanding what the person in recovery actually needs from you during their recovery.
At Nar-Anon meetings, you'll also get to learn from some of the positive things others have done in their efforts to deal with a family member with addiction throughout their own recovery.
Due to the changing landscape caused by Covid-19, many Nar-Anon meetings have moved to teleconference meetings or virtual meetings for everyone's safety. The ongoing support you need is still available, but you may sometimes need to access the sessions remotely.
Attending meetings remotely lets you participate in group support meetings from the comfort of your own home in your own time. You aren't required to make time in your schedule to attend pre-determined meeting times. Instead, you're able to log into your computer at a time that suits you and be confident that support is at hand when you're free.
Perhaps the most significant benefit to joining a Nar-Anon remote meeting via an online zoom meeting or teleconference is that you can remain completely anonymous. You can even choose to log into a conference being held in a completely different region to Fort Myers if you prefer to really remove yourself from your local community.
Remote meetings also offer the advantage of meeting people in different cities and states around the country. When you realize that people can be facing the same challenges are you are no matter where they live, it can help reduce feelings of isolation. You begin to realize you aren't the only one affected by your loved one's struggles with addiction. You also have the advantage of learning about some of the things other people have done to provide ongoing support for the recovering person in a positive way.
If someone you know is struggling to recover from a cycle of drug addiction and you feel as though you need support to understand how to help them, why not join a Nar-Anon meeting near home in Fort Myers? You'll have the benefit of meeting others who are also trying to find positive ways to deal with someone in recovery. Still, you'll also have the advantage of having support available when you really need it.
No matter whether you're a friend, family member, colleague, or associate of someone in recovery from substance abuse issues, you're always welcome at Nar-Anon meetings. We're here to help you find the support and understanding you need to help you find your courage, strength, and peace of mind.

Fort Myers Articles:
Colleges Fort Myers
Outdoor Activities Fort Myers
Biking
Kayaking
AA Meetings
Al Anon Meetings
Community Colleges
Restaurants Fort Myers
NA meetings
Volunteer
Museums
Smoothie Places
Farmer's Markets
Churches
Coffee Spots
If you or a loved one needs help with abuse and/or treatment, please call the WhiteSands Treatment at (877) 855-3470. Our addiction specialists can assess your recovery needs and help you get the addiction treatment that provides the best chance for your long-term recovery.