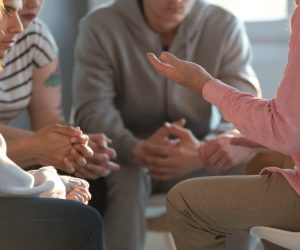 Find Nar-Anon Meetings in Orlando, FL
Do you have a family member, spouse, or friend in a drug and alcohol treatment program, or perhaps just completed one? Have you had your own life impacted by their drug use? If so, you should know a group of people who have experienced a similar journey and are looking to support you at your local Nar-Anon meetings in Orlando. 
Nar-Anon is similar to Alcoholics Anonymous, or AA, in terms of its being a support group with a spiritual basis founded on 12 Steps. However, one main difference is that Nar-Anon is support for the family members, partners, and friends, as they too usually are impacted in many ways when someone they love is addicted to drugs and alcohol. Depending on the group's location and the size of that region, groups may meet weekly or monthly and typically are attended by people local to the area trying to recover in some way in their own life from the issues caused by a loved one with drug addiction. 
The goal of the meetings is multi-fold. First, those who attend are urged to take part in working through the 12 Steps of Nar-Anon, as it is believed as you work through all of the steps, no problem doesn't have a solution found within them. Second, you will find support, compassion, and sound advice in the meetings you attend. Here you will be surrounded by other men and women who have gone through similar experiences. When you feel ready, you have the opportunity to share your own stories and things you are going through right now and can do so knowing what you say will stay within the meeting. Last, Nar-Anon is based on looking to your Higher Power to help you have the courage to see yourself as you are and to discover the grace to lovingly release those in your life who are struggling with addiction rather than trying to change them. 
Nar-Anon encourages people to have an open mind when attending meetings, attend as many meetings as possible, and try different sessions in your city as you may connect with one group of people more profoundly. You can share during the meeting or observe and listen; the choice is up to you. You will also have time after the meeting to ask any questions that may come up. In time, Nar-Anon meetings and information can help you understand that addiction is a disease and that you are powerless over it and what others choose to do with their lives. Once you have come to that realization and accept it, you can begin to move on with your own life, enjoying constructive and creative endeavors.                                       
The Nar-Anon Meetings in Orlando 
First United Methodist Church Winter Park
Prefer a meeting during the week and in the evening? At the United Methodist Church of Winter Park, you will find a supportive group of people gathered on Tuesdays at 6:30 p.m. for the Nar-Anon meeting.
125 N Interlachen Ave, Winter Park, FL 32789
Westside Clubhouse
This group hosts the Tuesday Night Nar-Anon Group of Kissimmee at 7:15 p.m. Because of COVID, this group is solely on Zoom but hopes to begin meeting in person when allowed. This is an excellent Nar-Anon meeting choice for anyone who prefers not to be around large groups of people but still needs support and encouragement. 
308 W Cypress St, Kissimmee, FL 34741
St. Johns Methodist Church
If Tuesday night meetings do not work for you, consider the Thursday at 7:00 p.m. meeting that takes place at St. Johns Methodist Church. This Nar-Anon group meets upstairs in room 226 each week and could be the ideal place for you to find support. 
1800 Cypress Gardens Blvd, Winter Haven, FL 33884
Orlando Health South Seminole Hospital
At Orlando Health South Seminole Hospital, there is a Nar-Anon meeting every Wednesday at 7:30 p.m. The physical meetings are suspended because of COVID, but sessions still occur via Zoom until restrictions change.
555 W State Rd 434, Longwood, FL 32750
River Run Church
Every Thursday at 7:00 p.m., there is a Nar-Anon meeting at River Run Church in Chuluota. Chuluota is part of the Orlando-Kissimmee area and is a perfect meeting option for those on the region's Southwest side. 
141 River Run Point, Chuluota, FL 32766
Benefits of Nar-Anon Meetings For Families of Addicts
You might be wondering if you could benefit from attending a Nar-Anon meeting or if you should try one in your area. If you have someone you love in your life who has been struggling with substance abuse, there is a high likelihood that their addiction issues have impacted your life in some way. When we love someone, we tend to focus a good portion of our attention on that person, sometimes losing ourselves along the way. We want to come up with any potential answer or solution that could help them or save them, but we cannot keep anyone in our own power who is struggling with addiction. 
Sometimes, you need sound advice, stories of shared experiences, or even just a listening ear. You can find all of this and more at your local Nar-Anon meetings. Addiction takes a toll on everyone close to the person struggling, and you may not even notice how you have been affected. Having strength and support in your life is crucial. It is normal to feel uncomfortable or even intimidated when walking into a support group for the first time, as you may not know what to expect if you will fit in, or even if it is the right group for you. You might also be wondering, will you benefit from anything the group has to offer? With Nar-Anon, the answer is yes. Here are just a few benefits to consider:
You will learn more about your loved one's addiction than you ever knew before. Everyone has different beliefs, ideas, and prejudices about addiction. While you might feel confused, sad, or disappointed by a loved one's addiction struggles, someone else might feel completely different. No matter what emotions or feelings you have about the situation, Nar-Anon meetings give you a safe space to openly discuss how you feel without worrying about judgment or repercussions because of your emotions. Not only do you get to express yourself freely and get things off your chest, but you will also be hearing others' stories of what they have encountered, which may offer you a different perspective you never had before. 
You are going to develop a strong circle of support by attending Nar-Anon meetings. People from all backgrounds and all walks of life come to Nar-Anon with the same goal in mind: to recover their life in some way from another person's addiction issues. Here you can share or listen and create bonds with other people walking along a similar journey. Attend a few meetings, and you will soon feel a strong sense of community, along with having strong support for when you need someone to turn to during challenging moments. 
Another benefit of Nar-Anon meetings is being comforted and encouraged as you walk through the 12 Steps. It is common to wonder if you could have done more for someone or if you should have done something differently, but continuing down those roads will only lead to more frustration and discomfort. At Nar-Anon, you will learn the three C's of addiction: The "I didn't cause it, I can't cure it, and I can't control it" motto. Repeating and accepting these realities, along with the principles of the 12 Steps, will help you create a more positive outlook and help you come to terms with the fact that you didn't cause your loved one to have addiction issues. You are not responsible for the choices they made or make because of drugs or alcohol. 
Last but certainly not least, Nar-Anon often helps group attendees rediscover parts of their lives and passions that have gone unnoticed for a long time, as attention is usually redirected to the person dealing with the addiction issues. As you move through the 12 Steps, you will take a fearless inventory of yourself. You will rediscover your own story and make your future goals as you begin to take charge of your own life once again. 
With Orlando being such a large region and many Nar-Anon groups now happening across the country via Zoom because of COVID, there are many options for you to take part in a meeting right away. 
If you have someone you love in your life who has yet to go through a substance abuse treatment program, now is a great time to reach out to WhiteSands Alcohol and Drug Rehab. Our addiction specialists can assess your recovery needs and help you get the addiction treatment that provides the best chance for your long-term recovery

Orlando Articles:
Farmers Markets Orlando
Kayaking in Orlando
Healthy Restaurants
Community Colleges
NA Meetings
Bike Trails
Colleges
Coffee
Al-Anon
Fishing
Museums
Nature Spots
Smoothie Spots
Churches
Volunteering
Creative Outlets
AA Meetings in Orlando
If you or a loved one needs help with abuse and/or treatment, please call the WhiteSands Treatment at (877) 855-3470. Our addiction specialists can assess your recovery needs and help you get the addiction treatment that provides the best chance for your long-term recovery.